Following a unique partnership with the landowner, the Drummond Estate, Arriva is set to introduce ArrivaClick, its demand responsive ride-sharing service to the residents of New Lubbesthorpe from April 29.
Marking the first time in the UK that funding from a Section 106 agreement has been used to fund a digitalised Demand Responsive Transport (DRT) service, ArrivaClick will be introduced at the development as part of Drummond Estate's drive to provide a sustainable way to work, live, learn and play for those living in New Lubbesthorpe – a new community to the west of Leicester providing new homes, schools, community facilities and an employment park adjacent to the M1/M69.
Once in service, ArrivaClick will offer connections for New Lubbesthorpe residents, but also for retail, leisure and workplaces in Leicester city centre, the city's University campuses as well as railway and bus stations, Leicester Royal Infirmary, Fosse Shopping Park, Grove Park, Meridian Business Park, Meridian Leisure Park, Narborough Rail station, Leicester Tigers and Leicester City Football Club.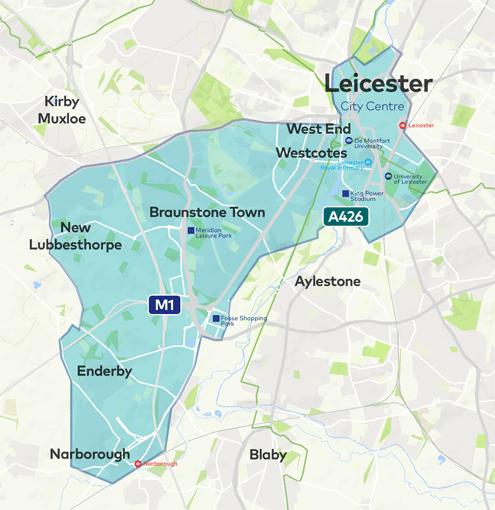 The service will deliver shorter end-to-end journey times for customers. Booking by the ArrivaClick smartphone app, customers request a minibus from their pick-up point at a time they want and to a destination of their choosing their journey is then matched with other people heading towards the same destination. Customers are then given a cost and pick-up time for the journey, and once the journey is accepted, are guaranteed a seat on the high-specification minibuses, which can accommodate up to 15 people (or 12 when including a wheelchair or pushchair using customer).
Paul Hickinbottom, General Manager from Arriva, added: "Public transport as we know it is evolving. There has been a huge shift in consumer behaviour which has seen people expecting a service that is bespoke and tailored specifically to their needs. ArrivaClick offers just that, prioritising punctuality of service and frequency. Its flexibility is the key to its success. It delivers on the unique and individual requirements of each costumer, providing a truly holistic approach to meeting their transport needs.
"ArrivaClick is entirely complementary to other forms of passenger transport by encouraging modal shift away from cars through offering attractive products that provide optimum convenience, first-and-last mile solutions, and an approach to service delivery which better represents modern lifestyles.
"By working alongside the Drummond Estate and Go Travel Solutions with our partners at Blaby District Council, Leicestershire County Council and Leicester City Council to bring ArrivaClick to Leicestershire, we are demonstrating a combined dedication to putting the customer's needs first, whilst seeking to increase our County's sustainability and environmental credentials."
Sustainable transport is a cornerstone of the New Lubbesthorpe development, which covers the area from Leicester Forest East in the north to Enderby in the south, straddling the M69.
Leicester will be ArrivaClick's third operating location, joining Liverpool and Sittingbourne.