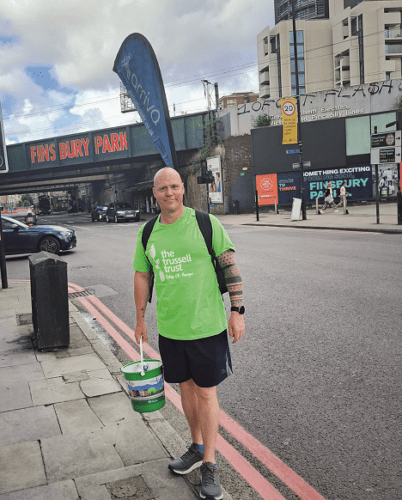 A bus driver who walked more than 125 miles of Arriva bus routes in seven days has raised £6,607 for food bank charity the Trussell Trust. Neil Atherton, 44, works as a MyDrive lead, training bus drivers in Arriva's technical systems, and has so far raised a total of more than £17,000 in the last two years for the charity by completing three bus-route challenges.
Neil has worked for Arriva for 23 years and has been nicknamed the Bus Walker. Neil, who lives in Widnes in Cheshire, donned his walking boots between 9 and 15 July and trekked Arriva bus routes from north to south across seven UK regions – starting in Durham and ending in London.
During that week, Neil clocked up an impressive 125 miles, 279,993 steps and drove 700 miles up and down the country. He was joined along the way by his local Arriva colleagues, who cheered him on. He said: "It was tough walking 125 miles as well as driving to the different locations, which made it hard on my body and mentally. The toughest part was day six in Hemel Hempstead, as we walked through the rain for six hours – it just didn't stop.
"My friends and family have always been behind me and it was really good meeting all the amazing Arriva staff, who walked with me and took in some of the sights on the walks. We had some great chats and I met friends for life. Making a difference is one of our key values at Arriva and I feel we serve the country as a bus operator and raising money and awareness of food poverty is important. We've helped so many families around the UK.
"I'd like to say a massive thank you to everyone who shared my walks and sponsored me."
Marketing and Customer Services Director for Arriva Cora Woodhouse said: "We are all really proud of Neil and everything he's achieved so far. He's a shining example of living our core values at Arriva, which are caring passionately about the people we serve, doing the right thing and finding ways to make a difference."