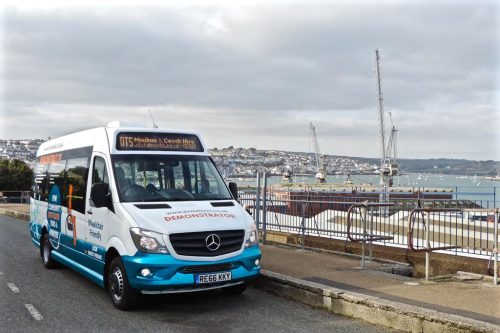 Following the resounding success of the Essex DaRT service, provided by Arrow Taxis, new vehicles are set to join the demand responsive service later in the year.
With annual passenger increases topping the 100% mark on some services, Arrow's Maldon-based operation is trialling the new EVM Mercedes-Benz 'Super-Sprinter' to provide more seat capacity, along with a higher specification.
The new vehicles will have more space for wheelchairs, shopping trolleys and buggies, along with new Euro 6 engines. The vehicles' improved low-floor design will allow the minibuses to use disabled access bus stops.
Arrow's claims its DaRT services are the only demand- responsive transport operation to almost continually gain growth against the current fall in bus passenger numbers, while reducing the subsidy burden on local authorities, and has been nominated and made the finals in several categories in the UK Bus Awards and The National Transport Awards.
The company has worked closely with Essex County Council and its customers on these operations, which it said is a combination of taxis, community transport and conventional bus services.
If the trials are successful, the new EVM Sprinters could be seen in The Dengie Peninsula and all over Arrow's Essex and Suffolk routes, which range from the tips of the Dengie, to Saffron Walden, Bishops Stortford, Haverhill and Sudbury.