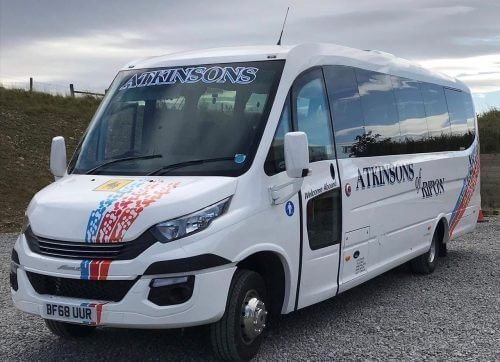 Atkinsons Coaches of Ripon, North Yorkshire has recently taken delivery of a Ferqui SR 33-seat midi-coach, supplied by Connuaght PSV.
The Ferqui SR is based on the Iveco Daily 70C18HP with a 4,750mm wheelbase chassis and a four cylinder four-stroke direct injection Euro VI engine with turbo intercooler, producing 170bhp. This is driven through an eight-speed hi-matic Auto gearbox or six-speed Manual.
The interior of the vehicle is accessed through an outward opening electric plug door and contains 33 Kiel high back coach reclining seats, with a fixed back row, and three-point seatbelts. Soft wipe clean trim is fitted to the roof and sides. Full length luggage racks are fitted, with passenger service units incorporating reading lights and air-conditioning vents. USB charging points to all seats have also been specified by Atkinsons.
Windows fitted to the Ferqui SR are tinted double glazed panoramic units. Full draw curtains are also fitted. Climate control is provided by a roof mounted Diavia air-conditioning unit whilst convection units either side of the vehicle provide heat.
Atkinsons of Ripon offers a variety of coach services, from wedding and corporate hire to contract work and private hire.