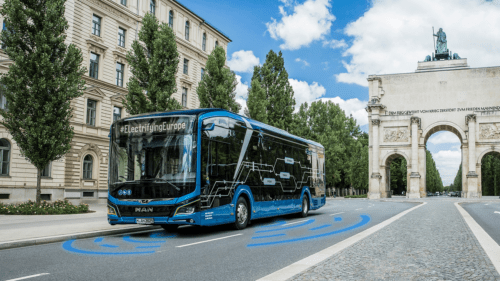 GERMANY
MAN is pushing ahead with the use of automated city buses as part of a research project in which the company will test an autonomous bus in real-life operation in Munich.
The growing Bavarian city has seen an increase in the volume of traffic, and says that in order to meet future mobility challenges, new public transport services are needed, including scheduled and on-demand services. It sees autonomous vehicles as one solution to address the issues of rising costs and the ongoing driver shortage to allow it to operate more services.
MAN Truck & Bus has developed its Automated Driving System (ADS), which has already successfully tested making automated approaches to bus stops in its earlier '@City' project.
The new project, named 'MINGA' (a German acronym for Munich's Automated Local Transport with Ridepooling, Solo Bus and Bus-Platoons) is designed to test the operation of highly automated modes of transport in an urban and rural public transport system. A pool of three to five automated vehicles will be set up for on-demand operation, and the scheduled operation of an automated full size bus is also planned.
MAN is working with operator Stadtwerke München (SWM) and is providing an automated and fully electric MAN Lion's City E. It will be used on bus route 144 through Munich's Olympic Park. Pilot operation will be accompanied by a safety driver and is planned to start from 2025. "Sustainability is a central part of our corporate strategy," said Barbaros Oktay, Head of Bus at MAN Truck & Bus. "That is why, on the one hand, we are consistently transforming our products to electric drives. On the other hand, we are pushing ahead with automation and digitalisation. The MINGA project is an important step for us on the way to the mobility transition."
In addition to MAN, project partners include the University of Stuttgart, the Karlsruhe Institute of Technology, Ebusco Deutschland, and the Association of German Transport Companies (VDV).
The project will look at, among other things, the integration of automated vehicles into the existing mobility ecosystem, on-demand services, automated bus route operation and the simulation of automated public transport. It is scheduled to run until December 2025 and is being funded by Germany's Federal Ministry for Digital and Transport (BMDV), receiving around €13 million.