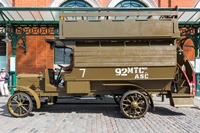 The London Transport Museum's newly restored B-Type bus has made its debut converted as a 'battle bus' in preparation for its tour of battlefields in France and Belgium – all part of Transport for London's Year of the Bus celebrations and commemorating the centenary of the start of World War One.
Advertisements and signage have been removed, the windows boarded up and the bodywork painted into khaki wartime livery.
The restoration and conversion have been made possible as part of a £750,000 Heritage Lottery Fund grant, which will also cover other activities including an apprenticeship and community outreach programme. The project has also been supported by London Transport Museum Friends and public donations.
London buses played a vital role in supporting Britain and her allies during the First World War. More than a 1,000 buses were commandeered by the War Department for service on the front lines. Many of these were driven by the same men who had driven them in London. This was the first use of motorised transport in a war and the buses would travel in convoys at night often of over 70 vehicles, to transport troops to the frontlines. They would take fresh troops out and return with the sick and wounded, or men leaving the trenches for rest periods.