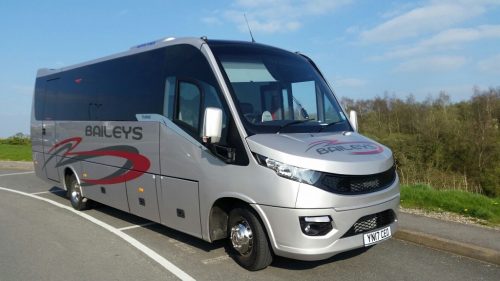 Baileys Coaches, based in West Berkshire, has taken delivery of a new Turas 700 minicoach from Doncaster-based Minis to Midis.
The new 29-seater vehicle is based on the Iveco Daily 70C18 chassis, fitted with an eight-speed ZF Hi-Matic gearbox, which the supplier said is proving extremely popular with operators.
The Turas 700 comes standard with in-dash and saloon air-conditioning, double glazing, audio system with pa, usb charging points and 4.5 cubic metres of luggage space. Baileys also specified a dvd player and monitor.
The chassis comes with a three year unlimited mileage warranty, plus fourth year driveline.
Baileys operates a fleet of executive specification coaches from 16 to 70 seats and covers a range of work from its fully equipped site just outside Newbury.
Director Darren Gale commented: "The Turas 700 fits perfectly into our fleet offering a stylish solution with excellent fuel economy and low noise levels. The vehicle is proving extremely popular with drivers and passengers."