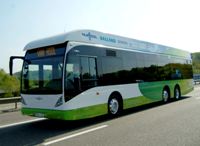 Company will be powering buses in eight different areas next year and is making waves in China
CANADA Ballard Power Systems anticipates powering approximately 40 of the 50 zero emission fuel cell buses used in public transport revenue service on European roads in 2014.
By next year Ballard will be powering 27 fuel cell buses manufactured by its Belgian partner Van Hool NV. Examples of these are operating in Oslo (five buses); Cologne (two); San Remo (five); Flanders (five) and, very soon, Aberdeen (10).
Aberdeen's fleet will be the second largest in the world, next to the 20- bus fleet that has been operating in Whistler, Canada, since 2010.
The 40 Ballard-powered buses in Europe use the company's latest-generation 75 & 150 kilowatt FCvelocity-HD6 modules, based on zero emission technology which provides reliable power while emitting only water and heat.
Dr. Christopher Guzy, Ballard's Chief Technology Officer, said: "Our fuel cell power module has proven to be highly reliable in a large number of buses in Europe and elsewhere. And, since fuel cells are a zero emission solution, this has made the Ballard module an increasingly popular choice of transit authorities as an alternative power technology."
Since 2003, fuel cell hybrid buses in Europe have logged more than 1.9m miles in service. Ballard has also worked with other OEMs to integrate its fuel cell modules into buses operating in additional European cities, including London, Amsterdam and Cologne.
Together with reductions in fuel cell bus costs, a major enabler for relatively large-scale fuel cell bus demonstrations in Europe has been – and continues to be – the EU Joint Technology Initiative (JTI) funding program. JTI earmarks funding for clean energy public transportation alternatives and, in combination with national, regional and municipal funds, has encouraged deployment of fuel cell-powered buses in numerous European cities.
Ballard is currently working to further commercialise its FCvelocity-HD power modules – with funding support from Sustainable Development Technology Canada (SDTC) – through improvements in durability and reliability, as well as cost reduction. Expanded fuel cell bus deployments are also expected to generate technology enhancements for vehicles and fuelling infrastructure, including improvements in well-to-wheel performance and significant reductions in lifecycle cost and purchase price.
Beyond Europe
In Beijing, Ballard has signed a non-binding Memorandum of Understanding (MOU) with Azure Hydrogen Corporation, extending the scope of their collaboration to include fuel cell buses.
The MOU with Azure envisions Ballard providing a manufacturing licence agreement, engineering services, fuel cell stacks and components. As the MOU is nonbinding, it is not certain a contract will be completed but the parties will move into the contract phase in the next several months. In the interim, under terms of the MOU, Azure has made a $1m up-front payment to Ballard. Azure plans to develop fuel cell bus capabilities in China with funding from Chinese sources, including both private investors as well as various levels of Government. If Azure is successful with its plans, the collaboration under this MOU would lead to the deployment of zero emission fuel cell buses in China.