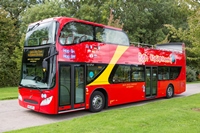 The vehicles, featuring UNVI Urbis 25 half-canopied upper decks, are the RATP Group-owned operator's first Euro 6 buses
Bath Bus Company – part of RATP Group, has taken delivery of two new Volvo B5TL double decks, the company's first Euro 6 vehicles.
Each bus has a passenger capacity of 79 and will be deployed on tourist routes throughout the World Heritage City of Bath, where strict operational rules apply.
Featuring the UNVI Urbis 25 half-canopied upper decks for sightseeing, a significant number of adaptations have also been made in response to feedback received from drivers and other operational staff, following experience with last year's deliveries from the same manufacturers.
Martin Curtis, Managing Director for Bath Bus Company, said: "Our experience of Volvo – UNVI has led to our selection of this tried and tested combination once again.
"We've been delighted with the fuel economy received from our previous Volvo buses as well as the excellent service and support from Volvo Truck & Bus Wales & West, with whom we have a very good working relationship, making this an easy choice for us.
"Our team is particularly impressed with the adaptations made to the design and layout of the new buses, including increased cab space, wider entrance doors and changes to the wing mirrors and fuel filler. In particular, the twin stair/two door access enables much faster loading and unloading of passengers, which is especially important for us in restricted bus waiting areas within the city."
Phil Fletcher, Fleet Sales Manager for Volvo Bus, added:  "We're delighted to be working with Bath Bus Company again and this latest delivery highlights our excellent relationship with them, as well as other RATP Dev operating companies. This includes recent deliveries of 29 Volvo B5LH Hybid buses to London United and a further eight B5TL to Yellow Buses in Bournemouth.
"The reputation of the Volvo B5TL Euro 6 is gathering momentum with operators up and down the UK due to its fuel efficiency results and reliability, and this in turn is leading to increased repeat business for us."