BVG has embarked upon a five month-long trial of an autonomous shuttle bus in the Berlin suburbs
Berlin public transport operator BVG has begun the first trial of an automated driverless shuttle in a German city. At around 1030hrs on Friday 16 August, the eight partner organisations launched the 'See Meile' project, which will see the electric vehicle run along a 1.2km route between the U-Bahn station Alt-Tegel and the Seeterrassen on the banks of Berlin's Lake Tegel, with a stop in each direction at Medebacher Weg. The free service will run Monday to Friday from 0730 to 1100hrs and 1500 to 1830hrs, and at weekends from 1030 to 1730hrs. The round trip will take around 15 minutes, and the Easy-Mile EZ-10 Gen 2 vehicle will operate in 'metro' mode, meaning it will automatically stop every time at each of the four stops and open the doors.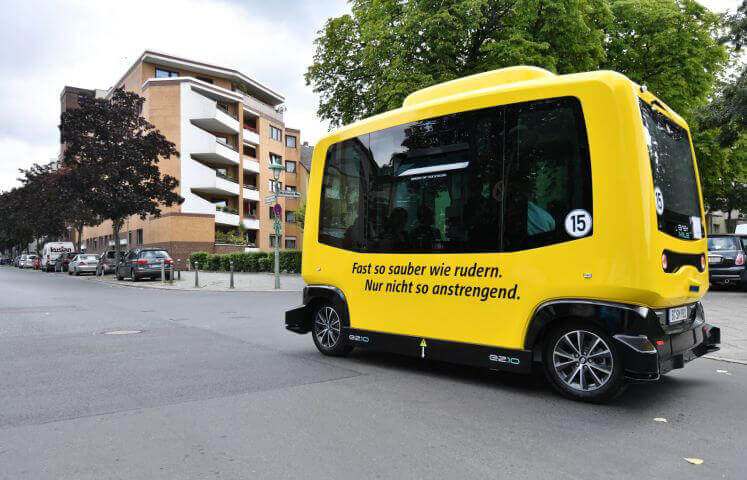 Travelling a pre-programmed route, the test is designed to prove how the sensors cope with environmental and weather factors, as well as assess people's reactions to an autonomous vehicle. For safety, the trial vehicle will be restricted to a maximum of 15km/h and will be accompanied by a member of BVG staff to assist passengers, as well as take over control or stop the vehicle in the event of an emergency.
Dr Sigrid Nikutta, Chairperson of BVG, said: "We believe that in the future autonomous minibuses are a useful addition to our big yellow ones, for instance in narrow or traffic calmed residential areas. With them, we can provide greater coverage and better serve even more Berliners."
Easy-Mile autonomous shuttles are already being used or trialled in other areas, including Bern, Singapore, Australia and the USA, whilst the German city of Hamburg has a trial of a similar vehicle planned for 2020.