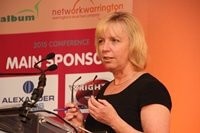 Senior Traffic Commissioner's term is extended until next spring, but she will not seek reappointment
Senior Traffic Commissioner (STC) Beverley Bell has had her term extended to continue as STC until Spring 2017, but has announced she will not seek reappointment and will step down as Traffic Commissioner (TC) for the North West of England once this extended term ends.
Beverley Bell is the longest serving TC and was appointed as STC in June 2012. The position generally has four year appointment lengths.
The responsibilities of the STC are set out in the Local Transport Act 2008, which allows the STC to give guidance and general directions to TCs and deputies, after consulting with them and key stakeholders, and determine which statutory functions TCs work on.
A spokesman for the Office of the Traffic Commissioners told CBW that a recruitment process was underway to find a new TC for the North West, and that one of the current TCs would be appointed to the STC role once interested parties had put themselves forward.
CBW understands that once both of these positions have been filled, at some point in spring next year, Beverley will step down.
Beverley Bell said: "I am delighted to serve as STC and look forward to working with the department and my fellow commissioners as we work through the changes that will follow as a result of the Triennial Review.
"Over the past four years, TCs have dealt with a range of significant issues arising in the operator licensing regime but there is still more to be done.
"Over the next 12 months, we will concentrate on continuing to deliver our key objectives of reducing the burden on the compliant industry and targeting the serially and seriously non-compliant to ensure our twin objectives of the promotion of road safety and fair competition.
"As part of my decision to continue as STC for another year, I have informed the Department for Transport that I do not intend to seek reappointment as STC in spring 2017. In reflecting on my work as STC I feel that real progress has been made in challenging times for traffic commissioners and operators alike.
"I consider that, next spring, the time will be right for the future challenges of fee and legislative reform to be taken forward under new leadership.
"Consequently, I also intend to step down from my post as TC for the North West of England at the same time. Since my appointment as TC I have thoroughly enjoyed every aspect of this important role and there is no doubt that I shall miss the cut and thrust of the public inquiry room as well as attending stakeholder events.
"Each case is unique and I have always tried to strike a balance between knowing when an operator or driver needs to be put back on the road to compliance and cases where the operator or driver poses the greatest risk to road safety and fair competition and needs to be excluded from the industry."