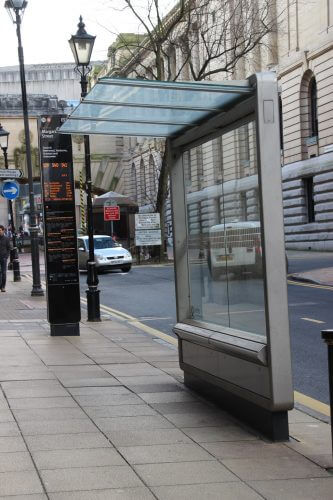 Domestic market slows down, though international and London sales are strong
It has been revealed that Birmingham has more bus stops per mile than any other city in Europe.
There are more than 13 bus stops per kilometre – just over half-a-mile – in Birmingham.
That is compared to three-and-a-half in Barcelona, two-and-a-half in Paris and less than one per kilometre in Berlin.
The three leaders on the chart are Birmingham (13.5), London (12.6) and Manchester (9.9). The closest continental city is Budapest, the capital of Hungary, with just over eight.
Details were revealed by Transport for West Midlands (TfWM) officials as they justified their decision to axe 60 bus stops in the south of the city in a bid to speed up bus times.
They also revealed that bus stops in some places are as little as 130 metres apart, giving drivers barely enough time to get into second gear before slowing down again. They have found that bus usage is now falling slightly at a time when they are looking to encourage more users.
The city council's transport scrutiny committee was told "bus speeds in the region are in a state of emergency" as figures revealed buses are 20% slower in the morning rush hour than they were two years ago.
Trips between Longbridge and Birmingham City Centre, for example, should take 54 minutes but are taking an average of 67.
Transport official, John Hayes, said: "We have been very proactive in the last few years in putting bus stops in. We have been so successful that we now have the highest density of bus stops in Europe.
"Along with London, Manchester and Budapest we are way out in front, which sounds good but this has a huge impact on journey times."
He joked that some stops are so close together passengers could almost get on a bendy bus front door at one stop and exit the back door at a different stop. He added that many bus stops, which were perhaps sited at former factories or old shopping centres, are now in the wrong place but were never removed.
The stressed that this is a six month trial and that, along with National Express West Midlands, they are closely monitoring the feedback and journey times to see if it is successful.
There has been widespread criticism of the 'bus stop rationalisation trial' from passengers and residents in south Birmingham.
Cllr Tony Kennedy (Lab, Sparkbrook), in an open letter to National Express and TfWM, said: "Your 'Bus Stop rationalisation' programme is irrational. Taken in isolation from other factors, simply removing these stops will only undermine the development of a genuinely integrated public transport strategy, fit for now and the future.
"The people affected by these stops are disproportionately poor, suffer disabilities and are older," he added and called for a wide ranging review of bus services across the area.
Meanwhile cllr Ken Wood (Cons, Sutton Newhall) said that a simple way to both cut congestion and raise bus usage would be to cut fares during rush hour to tempt people out of their cars.