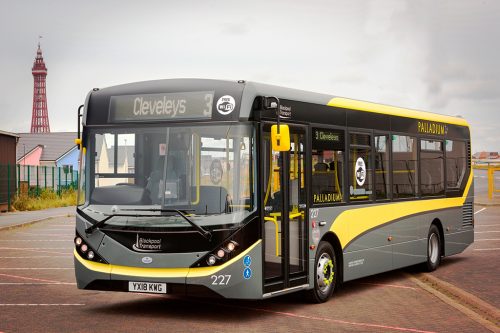 Eighteen brand-new ADL Enviro200s will be added to Blackpool Transport's growing fleet next week, marking the next phase of the operator's £22m investment plan.
The new single-deckers will join the company's 140-vehicle fleet – which is set to be entirely revamped as part of the investment plan – helping to create one of the UK's most modern, low-emission line-up of PSVs.
Blackpool Transport currently has 55 ADL Enviro400 Citys which were delivered in the past two years.
Measuring 9.7m in length, the 34-seater buses will operate on routes 3 and 4, providing services for local schools, Blackpool and Fylde College, Whitegate Drive Health Centre and those travelling to and from Cleveleys, Marton and Mereside.
As with the existing Enviro400s on the fleet, the new vehicles come equipped with USB charging points, free WiFi, audio and visual announcement systems, mobile phone holders, stop buttons at every seat, infotainment screens, E-Leather seats and wood effect flooring.
Jane Cole, Managing Director at Blackpool Transport said of the new vehicles: "These new single decks mark another stage in our journey towards a completely revamped fleet.
"Our aim is to make the customer experience second to none, both for locals and the many visitors who form part of the 15 million people we provide services for every year."
James Carney, Financial and Commercial Director at Blackpool Transport, added: "We are striving to deliver an ambitious business plan that fulfils our shareholder's strategy to have a world-class public transport service that is multi-modal, modern and efficient because these are vital ingredients in successful economic development.
"Much of what has been achieved is thanks to the terrific partnership we have formed with Alexander Dennis Limited, working together to design and engineer the vehicles of tomorrow."
Richard Matthews, ADL's Sales Director Retail Bus and Coach, said: "Blackpool continues to throw down the gauntlet to transport authorities far and wide. They have in the past two years raised the bar in terms of their bus fleet and remain committed to their radical, five-year vehicle replacement programme, which will unquestionably put them in the vanguard of the industry. Their enthusiasm and innovation know no bounds and it is a pleasure working with them."