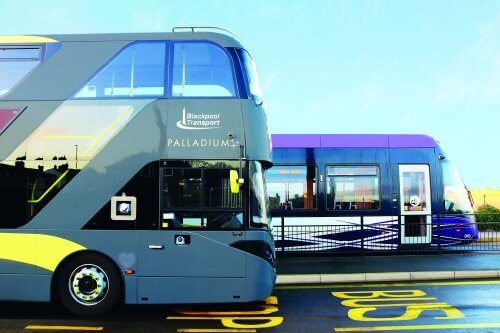 Bournemouth-based Passenger, which develops public transport mobile apps, websites and voice platforms for operators, has renewed a multi-year contract
Blackpool Transport has renewed its contract with digital services provider Passenger, with which it has been working since 2017, with hundreds of thousands of passengers having used the Blackpool Transport app in that time.
Dating back over 100 years, Blackpool Transport's fleet of 135 buses and 25 trams carry 5.2 million passengers every year. Over the last five years, Blackpool Transport believes it has delivered a revitalised, modern and accessible network, and since working with Passenger says it has seen a year-on-year increase in child ticket sales after introducing ticket gifting, and greater customer confidence after implementing live bus tracking. The company's digital services offering now includes contact-free verifications for students and other discount ticket holders, and a Travel Portal providing discounted travel schemes for local businesses.
In February 2021, dynamic QR codes were introduced, which the operator said significantly reduced instances of fraudulent tickets being used to travel, and since March Tap&Go contactless card payments have allowed users to simply tap on and off and be charged the lowest available fare for their journey.
Sales & Marketing Manager at Blackpool Transport, Shane Grindey said: "Having worked with Passenger since 2017 I have no doubt that their app and website products have played a key part in allowing us to achieve a 92% satisfaction rating amongst our customers in recent years. Our data-driven and customer-focused approach has been complemented by the innovations provided by Passenger, which has played an important part in allowing us to better understand our customers and provide the products which they want.
"Importantly, their robust digital product offering aligns with Blackpool Transport's commitment to accessibility and inclusivity. It's been a fantastic partnership so far and we look forward to achieving even more for our customers over the next three years."
Passenger CEO Tom Quay added: "We greatly enjoy working with the Blackpool Transport team. They truly understand the needs of their customers because of the extent they analyse their data and work to understand the impact of changes. They always make data-driven decisions and the results speak for themselves. They make smart moves and get things right – making it the easy choice for their residents and visitors to use shared public transport as much as possible."