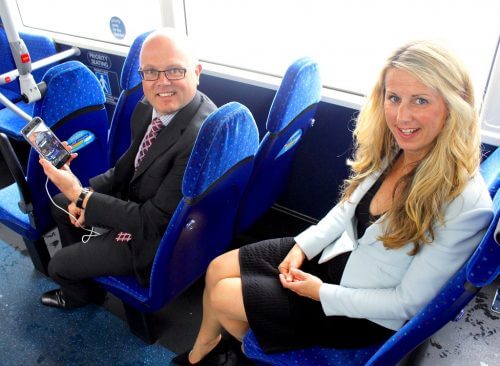 Go-Ahead Group-owned Bluestar has teamed up with specialist automotive power supply company Alfatronix to install distinctive USB charging points across its bus fleet.
The Eastleigh-based bus operator believes it was among the first in the country to provide free power-charging for passengers with smartphones and devices – and now it has turned to Alfatronix for more personalised plug-in points.
"We're keen to ensure our customers know they can rely on us to keep their phones and tablets topped up when they travel – and the team at Alfatronix has provided us with specially-branded USB points," said Bluestar MD Andrew Wickham.
"The first of our buses is all fitted and ready to go, with Bluestar's distinctive branding on display for all to see – and we're delighted by the overall finish. It's the first time these personalised charging points have been used in the UK, and we'll be installing them in all our newest buses, which are due to arrive later this year."
Claire Phillips, Sales Director at Alfatronix, said: "We're delighted to be working with Bluestar in offering this unique charger branding option. Customers' needs are changing and as a successful British manufacturer we're keen to deliver the latest innovation and design