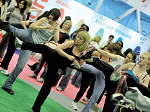 A purpose-built events venue will open later this year at the Bluewater centre in Kent.
The new Bluewater Events Venue, covering 5,200 sq metres (56,000 sq ft) on two floors, will hold retail and leisure-led events and exhibitions, and extend Bluewater's day-out experience for visitors.
Event organisers Clarion will hold two of the first events, a Spirit of Christmas show in November with 250 brands of luxury, hand-picked gifts for sale as well as workshops and personal appearances from a number of celebrities and leading designers. This will be followed by a Festive Food Fair in December.
Andrew Parkinson, Bluewater's general manager, said: "The Events Venue is the first of a new breed of events and exhibition spaces.
"Bluewater is a brand that generates great loyalty, and that is already proving to be very enticing to the industry as it is the very first time that the location of a venue adds something extra to the visitor experience."
The centre opened in 1999, and now holds 330 stores, 50 restaurants, cafes and bars, a 13-screen cinema and 13,000 free parking spaces. It employs 7,000 people and attracts more than 28m visitors a year.
T: 0870 777 0252
W: www.evbluewater.co.uk