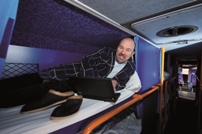 Stagecoach's Megabus.com sleeper coach pilot covered in CBW998 has been launched following successful trials since August.
The service between Glasgow and London began on Friday evening (October 21) and is being operated with three speciallyrefurbished articulated Jonckheere Mistral and Modulo Volvo B10M coaches. Each passenger has their own berth and seat of the 24 fitted on each coach, with fares ranging from £1 to £40.
The berths include a reading light, curtain, duvet, pillow and blanket. Also on-board is a WC, on board refreshments and free Wi-Fi.
The coaches run seven evenings a week, from Glasgow-London departing at 2310 and arriving 0700, while the reverse trip departs at 2355, arriving at 0745hrs.
The sleeper coaches have been safety certified by VOSA and are fitted with CCTV. Each berth is equipped with a button to alert the driver in the event of an emergency.
Stagecoach CEO Sir Brian Souter said: "We've had huge interest in the sleeper coach. Feedback from the trials has been very positive about the extra comfort, facilities, and the great value fares.
"We've seen particularly strong growth in demand for budget travel over the past two years with the combined effect of the tough economy, stretched household budgets and rocketing fuel prices. The sleeper coach is a great way to travel and make your money go further.