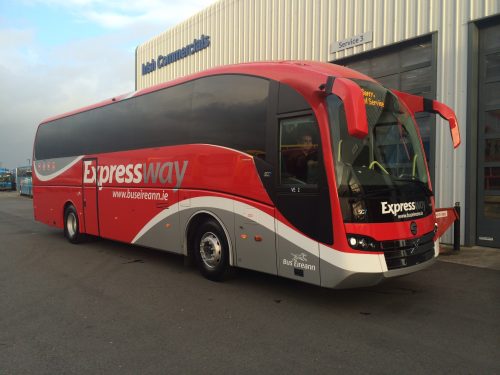 In a statement released on Wednesday 23, March, Bus Éireann announced that the unions called an all-out strike from midnight 
The unions have reacted with strike action following an earlier statement by the Dublin-based operator. Due to the failings at previous talks held at WRC, they advised that cost-saving options would be implemented: "Due to the perilous state of the company's finances and the failure to reach agreement with unions at the Workplace Relations Committee (WRC) last Monday, the Board of Bus Éireann convened this morning to hear management outline a number of further cost-saving options which could be urgently implemented.
"Before implementing these options, the Board have now sought written clarification from unions in relation to their position. Subject to this clarification, which is expected today, there may be an opportunity to re-engage in time-limited talks.
"The Board will re-convene again to approve the implementation of cost saving measures, which must be taken to avoid the risk of insolvency."
In response to this NBRU's Dermot O'Leary said in a statement: "The new management structure at Bus Éireann have clearly signalled that they are intent on pursuing a race to the bottom in relation to workers jobs, terms and conditions and to reposition Bus Éireann as a low cost transport provider, mimicking some of the rogue operators that populate the so-called interurban market.
The General Secretary expressed his regret that the public would be affected by the decision of the NBRU to strike, but that their hand has been forced by the operator's decision to cut wages. The statement closed with: "The NBRU
will now engage in an all-out indefinite strike from Midnight tonight in response to Bus Éireann's appalling declaration of war on its own workforce. The NBRU remains available at any stage to reengage on efficiency based agenda in order to resolve the Expressway crisis"
Bus Éireann responded with: "Bus Éireann is extremely disappointed that Unions have called a strike at the company from midnight tonight. Industrial action will cause major inconvenience to our customers and exacerbate the perilous financial situation at the company."
The operator stated that losses for January and February in 2017 are 41% higher than for the same period last year – and losses in 2016 were €9.4m. It also claims that the company will be facing insolvency in a few months, and that they have no other options but to implement urgent cost-savings.
"We sought savings of €12m from a payroll of €133m – or 9% – but Unions were only prepared to cede €0.5m on the current overtime bill of €13m.The efficiencies we are seeking to introduce relate to work practices, which must be put in place if the company is to have a viable and sustainable future."
Bus Éireann has apologised to passengers and assures that services such as school transport should not be affected: "We apologise to our customers for any inconvenience caused by Unions' action and want to reiterate that School Transport services, GoBe.ie, Eurolines and Cross-Border Translink operated services should not be affected by this strike action."
For more information on Bus Éireann services please visit www.buseireann.ie