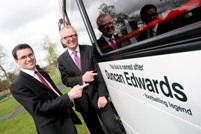 Ian Austin MP unveiled a special dedication to 'Busby babe' Duncan Edwards on a National Express West Midland's bus on Monday, April 23.
The West Midland's operator dedicated the bus on the 120 service to the Dudley born Manchester United player who tragically died in the Munich air disaster.
The Duncan Edwards bus is expected to carry thousands of passengers from the player's hometown of Dudley to Oldbury, Bearwood and Birmingham every week. It's one of 21 new buses recently introduced to the Black Country by National Express West Midlands.
Simon Mathieson, Operators Director for National Express, said: "It's an honour to dedicate one of our new buses to Duncan Edwards, who is one of the Black Country's most fondly remembered football heroes.
"The bus will travel through Duncan's hometown of Dudley everyday in homage to his achievements."
Ian Austin, MP for Dudley North, said: "Like any other lad from Dudley I grew up with the name Duncan Edwards ringing in my ears.
"You played for the Duncan Edwards cup. His caps and kits were on display at the leisure centre and now we've got a memorial statue of the player in the town.
"I think he should be an inspiration for every young person in Dudley: we're as good as anyone and if you work hard, make the most of your opportunities and do your best then the sky's the limit."