An 18-month trial into allowing service buses to continue to use a busy Oxford city centre street has ended.
Oxfordshire County Council and Oxford City Council originally planned to make Queen Street pedestrianised.
This was due to concerns that once the £440m Westgate shopping centre was reopened after a major redevelopment in October 2017, Queen Street would see a huge rise in pedestrians using the area.
The main issue with the proposals from the two main bus companies in Oxford was that there would be nowhere to turn buses around in the city centre, and that the closure would create additional vehicle mileage and traffic congestion.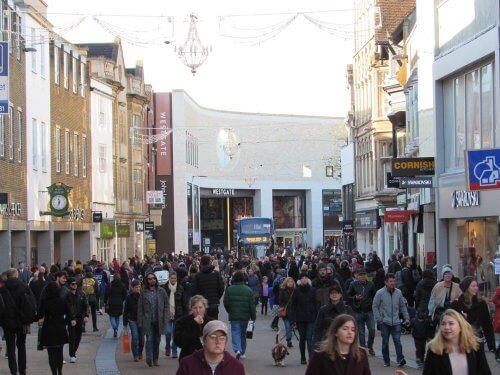 The councils had set aside £1.4m for the project to create a pedestrianised area, but Transport Secretary Chris Grayling had looked at the proposal and turned down the request. Instead the street remained open to buses for an 18-month trial, which has now ended. 
County council leader Ian Hudspeth told Oxford Mail: "Bearing in mind the government response it is difficult to see how this could be progressed at the moment.
"We have to work with the bus companies – there are 40 million bus journeys a year in Oxfordshire which is very high.
"The big issue was providing a turning point for buses and one suggestion was Worcester Street car park but that has not been possible."
Phil Southall, Oxford Bus Company Managing Director, said: "I'm pleased that the County Council is taking a pragmatic view to keep Queen Street open to maintain efficient bus access to key streets in the City Centre.
"If Queen Street had been closed to buses, they would have had to have travelled an extra 149,000 miles per year, increasing journey times and negatively impacting on the city's air quality.
"We will continue to work with the City Council and County Council on how to balance public realm improvements with maintaining excellent access to the City Centre for buses and other sustainable modes.
"Both bus operators are producing a report on choices that can be made to achieve these objectives looking at the City Centre as a whole.
"It is essential to the Oxford economy that we can collectively take both residents and visitors where they want to go as efficiently and as sustainably as possible for many years to come and encourage a continued modal shift from car use."
You can read more Bus News here: cbwmagazine.com/category/news/buses