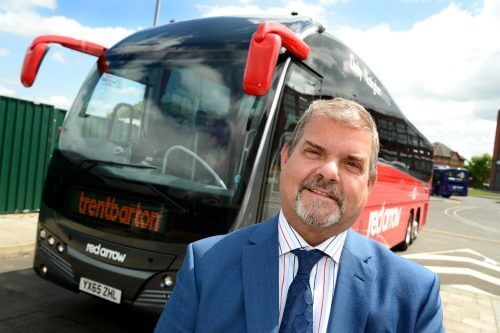 In a long statement, Jeff Counsell claimed that bus mass rapid transit is the future of transport and should be the target of investment instead of more expensive and disruptive alternatives
Trent Barton's Managing Director, Jeff Counsell, has said that electric buses using dedicated busways is the affordable, achievable and environmentally responsible way to link to the HS2 rail hub at Toton.
Responding to the East Midlands HS2 Strategic Board's publication of its HS2 Growth Strategy document, Jeff said extending the NET tram west of Toton would be prohibitively expensive and hugely disruptive. He added that instead, future generations of high capacity, zero emissions buses should use a mix of guided and unguided segregated busways, bus lanes and smart priority signalling to provide the mass rapid transport to connect the people of Derby and Derbyshire to HS2.
Jeff stated: "Forget what you know of today's typical bus on local services beset by traffic and congestion. By the time HS2 is operational in the 2030s there will have been significant evolution in public transport vehicles and the infrastructure they run on.
"Even today, there are clean, green, high capacity buses with great creature comforts running on smart networks, including busways in cities such as Johannesburg, Mexico City, Adelaide and Accra. And closer to home there are cities such as Cambridge and Manchester which are benefitting from rapid bus transit.
"Fast forward 15 years and the quality and features of future buses will have stepped up several gears. Derby and the East Midlands could have a bus system plugged into HS2 via dedicated transport corridors, operating at a frequency where passengers don't have to worry about a timetable.
"Buses could use dedicated bus ways – for instance alongside the A52 or in the central reservation – but also access normal highways. That gives the flexibility to respond to the major changes there will undoubtedly be as travel patterns and employment evolves around Toton and across our region by 2030.
"Creating a bus rapid transit system infrastructure will cost local authorities and/or national Government a fraction of that for light rail or trams. Commercial operators, such as Trent Barton, would take the commercial risk of investing in the vehicles.
"Connecting East Midlands Airport to HS2 at Toton is also an opportunity for a smart bus rapid transit system. I believe it is more viable than any other option. And we already have that partnership with the airport, running three skylink services, two of which operate 24-7.
"Modern bus rapid transit systems offer all the environmental and mass capacity benefits of light rail and tram systems at a fraction of the cost. They are far quicker to establish, easy to adjust in line with demand and the vehicles can be refreshed more readily to get the benefits of technological and other innovations.
"Penetrating city centres and local communities will be simple and undisruptive, as buses can take advantage of the current infrastructure and get closer to people's homes.
"The other benefit that comes with bus priority is that it's not just those communities around Toton that will benefit. We run several routes in the area that could also use these measures to shorten their journey times and make public transport an attractive alternative to the car across the region."