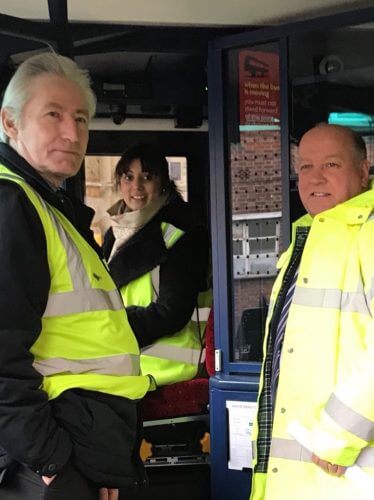 Transport Minister Nusrat Ghani has paid a visit to Brighton & Hove Buses to learn more about how the company operates, including the company's accessibility initiatives and new low-emission buses, Wrightbus Streetdecks.
The Minister, who is the MP for Wealden in East Sussex, spent a couple of hours with the company and looked around one of its new 'intelligent' buses which includes features specifically to make travel easier for people living with disabilities.
Nusrat said: "It was brilliant to hear about Brighton & Hove's initiatives to make its buses greener and more accessible, as well as its strategies to tackle congestion.
"People with disabilities must have the same opportunities to access transport as everyone else and I was impressed with Brighton's 'intelligent' buses which clearly consider the needs of these passengers.
"It was encouraging to hear about the company's ambition for a fleet of entirely emissions-free buses, which will make a real difference in improving the local air quality."
Brighton & Hove Buses' Managing Director, Martin Harris, said: "I welcome the Minister's position championing buses, her insight that the industry's biggest obstacle is congestion and her foresight that buses will become even more vital in the future.
"It's been really valuable to host this visit. Buses are going through a technological revolution in front of our very eyes. The air pollution debate has been a game changer for the industry.
"Brighton & Hove Buses is well on its way to the future where the bus service will be wholly sustainable and emissions-free.
"These new generation nearly emissions-free buses are a fantastic place to be in the interim while we work towards a clean air city."
The Minister heard how a third of the company's fleet is now made up of nearly emissions-free buses – they reuse and convert energy to such an extent, they emit negligible amounts of pollution.
These buses, she learned, have been uniquely designed for Brighton & Hove Buses with accessibility in mind. They come with a lighter floor colour, specifically for people living with dementia, and are generally more spacious in the gangway to make it easier for people with disabilities or the elderly to make their way to a seat.
Nusrat, who has been an MP since 2015, was appointed Transport Minister in the last Government reshuffle in January of this year with specific responsibility for buses and accessibility on public transport.
In addition, Brighton & Hove Buses' pioneering Helping Hand assistive card scheme was recently rolled out across bus services around the country by transport provider Go-Ahead.