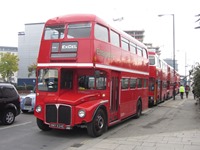 Buses from a variety of operators came to the rescue on London's Docklands Light Railway last week when members of the RMT union staged a 48-hours strike.
The industrial action, which took place on Tuesday and Wednesday, closed the entire system except for a reduced service between Prince Regent and Canning Town.
Ross Newman of Ensignbus told CBW: "TfL hired us in to boost bus routes D7, D8, 108, 115, 147, 277, 473 and 474. With the popular World Travel Market underway, ExCel hired us in direct for 20 buses. Vehicles used included our Van Hool Astromega, Metrobus M1, Routemasters and four Tridents. Our buses also ran between 2200 and 0200hrs on the evening of the strike to help those leaving a concert at the 02 to get home. Among the memorable workings was the use of RFs on the 108 through Blackwall Tunnel on the Wednesday."
Ross also wished to thank the operators involved – namely: Abbey Travel, Beestons, Galleon, Imperial, London Bus Company, Panther Travel, Regal, Travelmaster and Southern Transit.