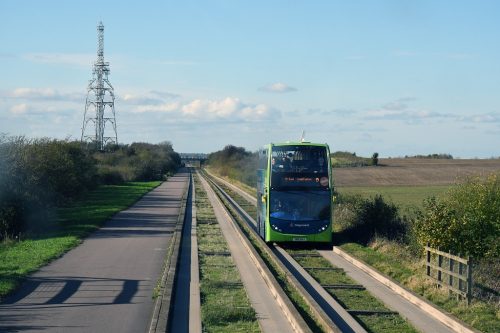 In the last of his occasional series on the exceptionally long bus routes that radiate from Peterborough, Andy Izatt tries Stagecoach East's service B to Huntingdon and Cambridge
Having tried the other three long bus routes that radiate, or in the case of Centrebus' Five Counties to Nottingham, used to radiate from Peterborough (Issue 1273), it was time for me to try Stagecoach East's service B which takes around two hours to cover what is a distance of very approximately 40 miles to Cambridge. That's certainly not as long as Stagecoach Midlands' Gold X4 (Issue 1167) which takes around three and a half hours to reach Milton Keynes, or anywhere close to First Eastern Counties X1 to Lowestoft (Issue 1199), a four hour, 45-minute marathon involving a change of bus at Norwich, but it is nevertheless a significantly long route and there's added interest as it's one that uses the Cambridgeshire Guided Busway.
When it opened in 2011, the 16-mile guideway, which is in two sections, was the longest guided busway in the world. The northern section uses the alignment of the Cambridge and Huntingdon railway and runs through the former stations at Oakington, Long Stanton and Histon while the southern section is part of the former Varsity Line to Oxford and links Cambridge railway station to Addenbrooke's Hospital and the Trumpington Park & Ride site.
Busway routes A and B between St Ives and Cambridge are Stagecoach East services. The A runs through Cambridge to use the southern section of guideway while the 15-minute daytime-headway B, which originally terminated at Huntingdon railway station or Hinchingbrooke Hospital, was extended to Peterborough on an hourly frequency for much of the day in 2012. Peak time routes R between Cambridge railway station and Trumpington and service N (St Ives or Longstanton Park & Ride to Regent Street, Cambridge are also operated by Stagecoach East. Go-Whippet provides the C between St Ives and Cambridge as well as the U linking Eddington and Addenbrooke's.[…]
By subscribing you will benefit from:
Operator & Supplier Profiles
Face-to-Face Interviews
Lastest News
Test Drives and Reviews
Legal Updates
Route Focus
Industry Insider Opinions
Passenger Perspective
Vehicle Launches
and much more!