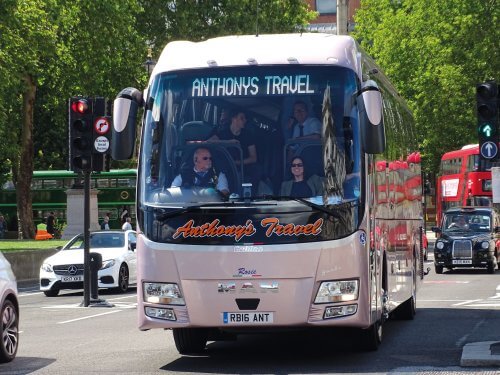 It transpired on Thursday 17 April that the Cabinet Office had issued guidance that overruled the Department for Transport advice to operators
The Confederation of Passenger Transport (CPT) has warned its members that, based on recent guidance from the Cabinet Office, private hire coach trips are currently only permitted for single households and their support bubbles.
This news contradicts what was previously set out in the Department for Transport's (DfT) Safer Transport guidance for operators, which stated that social contact rules would not 'place any capacity constraints on public transport services and private hire vehicles.'
It added that operators could provide transport services that 'accommodate multiple separate groups.'
Based on this latest information, the CPT says that coach trips or tours carrying people from multiple households will not be permitted until 17 May, when stage three of the Government's road map is scheduled to begin.
Emma Hardy MP – who has been fighting for the coach sector since the first Honk for Hope – joined the CPT, Alan Acklam of Acklams Coaches, and Richard Bamber of Anthony's Travel to meet Baroness Vere, Parliamentary Under-Secretary of State in the Department for Transport on 15 April to discuss what support the Government is going to provide for the coach industry. During the meeting Baroness Vere 'agreed to review the matter and see what could be done.'
Following the meeting, Emma Hardy MP made the following statement on her official social media account: "I've just been in a meeting with the Government's Coach Minister and I'm honestly in shock. To say the Government have messed up is an understatement.
"The Cabinet Office has issued its Road Map guidance without fully realising the impact on the coach industry. It means that they would be unable to have tours until Step 3 (17 May)! This means that unless the Government act quickly coach tours will have to be cancelled!
"This is apparently because the Cabinet Office guidance trumps the Safe Travel Guidance – which has existed for the past nine months. What a total mess!
"Luckily Alan Acklam, Richard Bamber and Graham Vidler were on a call to point out the mistake and the Minister said she would look into it urgently.
"I will be writing to the Cabinet Office in the morning and inviting MPs from all political parties to sign the letter and asking them for immediate action. This is no way to treat the coach industry."
Richard Bamber went on to give a detailed summary of the meeting on the Coach Crisis Network of Operators and Suppliers social media group: "On Thursday I spoke to Baroness Vere on behalf of Anthony's Travel and RHA Coaches where I was able highlight numerous issues which the Baroness has promised she would look into.
"She has agreed with urgency to look at the latest guidance for coach tour operators and the revised date of 17 May and to look at capacity in general – I used an example of a new report into trams in Manchester running at capacity that have similar systems (supplied by Hispacold) for air supply producing the same amount of airflow and complete changes which exceeds SAGE recommendations. On Tuesday Greater Manchester trams carried over 48,000 passengers – even if all its tram fleet of 120 units were operational it's in excess of 400 passengers a day, with face coverings and sanitising of the trams they are confident capacity is not an issue. I raised this point alongside the issues of buses and National Express generally having many more passengers and our enhanced cleaning regimes and some of the measures companies such as ourselves have taken fitting Hispacold Eco3 units and PEPA filters and quoted the scientific information that both systems eliminate airborne viruses, including Covid, by over 99%.
"We pointed out the messaging has been mixed and she has adopted my phrase to give the coach industry 'the ability to trade' which is currently restricted.
"She has agreed to look further into Additional Restrictions Grants, and I have asked for the reasons why we did not qualify for restart grants and asked for clarification of the criteria for restart grants and why the coach industry did not qualify. I used the examples of lap dancing clubs and tattoo parlours as businesses who have met the criteria and how absurd it is.
"I also mentioned the essential role we play in the supply chain for sectors that have been provided with sector support, using examples of festivals, Wembley Stadium, referring to the local travel and congestion agreements that are part of the granting of such licences. Many of these events have to provide ticket and travel packages to reduce congestion and environmental impact.
"The Government has to work with the coach industry as a safe way to travel and help with the messaging to allow us 'the ability to trade.'
"I also mentioned the role coaches have played through the pandemic – essential worker transport, supporting the NHS, transporting troops, transferring incoming international passengers to quarantine hotels and beyond.
"I addressed the potential skills shortage as staff that have been made redundant have been forced to seek careers elsewhere and potential short term capability issues.
"I mentioned the investment in the latest technology, Euro VI, PSVAR etc could actually leave some of these operators vulnerable whilst there is nothing to stop someone buying a handed down service bus that's seen much better days for £5,000 or less, it's PSVAR compliant but doesn't have the additional safety features coaches have – seat belts and other features – a backwards step.
"I also highlighted that moving forward coaches are going to be needed for lots of high profile events.
"In addition I mentioned in normal times thousands of coaches would have been required for the funeral of Prince Phillip.
"I said whilst the coach industry hasn't closed with the restrictions limiting many operators to just schools and contracts it was not in many cases commercially viable, I gave the example of ASDA staying open but only allowed to sell eggs, milk, bread and cereal. They could not survive and we can't survive on our current diet.
"I highlighted that we are one of the only sectors that is not only reliant on the lifting of restrictions but the recovery and uptake in the likes of resorts, theme parks, events. It is only when they are successful and experience demand that we do, so the messaging needs to cross over."
Richard went on to clarify that: "I am not posting any of the above to say how great I am, and I rarely speak in serious terms in business about me. It is about 'we' – and on this occasion I was speaking for 'we' as in the membership of RHA Coaches."
In addition, many operators have commented that it is unfair that express coach operators are allowed to continue to operate, when excursions and private hire have to be halted unless they are
for single households and their support bubbles.
The industry awaits a decision by the Cabinet Office as to whether its advice will be altered. CBW will post any updates on its social media pages and website when we hear more.