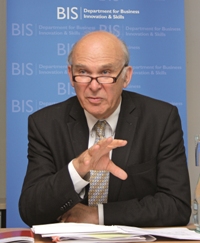 The scheme matches those facing redundancy with manufacturing and engineering companies
Business Secretary Vince Cable met with executives from BAE Systems, Rolls- Royce and Nissan yesterday to discuss the progress of a new scheme helping to retain vital engineering skills in the UK.
Formally launched in July last year, the Talent Retention Scheme (TRS) was initiated to match skilled employees facing redundancy to UK companies in growing sectors of advanced manufacturing and engineering who are recruiting.
The free service has received backing from a number of leading companies and industry bodies, including the Institution of Mechanical Engineers (IMechE).
Speaking last week, Vince Cable said: "The TRS provides a way for advanced manufacturing and engineering companies to recruit engineers quickly.
"It supports UK economic growth by ensuring that sectors who are winning business and recruiting can secure vital engineering talent from companies which are in a different economic cycle. I encourage engineering firms to take advantage of this important opportunity to add to their skillsets, and particularly SMEs for who the service is free."
Stephen Tetlow, chief executive of the IMechE, added: "Without the right skills the UK's economy cannot prosper, so during the current economic climate it is more important than ever to work together to redeploy and retain talent in the UK.
"This tool helps link up those who have found themselves facing redundancy with top employers around the country who are desperately looking to recruit engineers. It's good news for engineers looking for work, for companies looking to recruit and for the country as a whole as a way of retaining crucial skills needed to get the economy back on its feet."