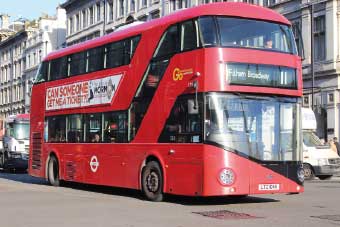 'London Stalling' report says buses in the capital are becoming unreliable to the point usage is dropping due to congestion
A new report has claimed that congestion is increasing sharply in the capital, both in Central London and the wider city area.
The London Assembly Transport Committee report, entitled 'London Stalling,' has called on the London Mayor, Sadiq Khan, to reform the Congestion Charge and ultimately replace with it road pricing. It stated that London buses have become so unreliable that usage has begun to fall, after many years of growth.
The Committee suggested a way of charging people for road usage that is targeted at areas of congestion, at the times congestion occurs. It also recommended reducing restrictions on night-time deliveries, piloting a ban on personal deliveries for staff, reconsidering 'click and collect' at Tube and rail stations, devolving Vehicle Excise Duty to the Mayor and piloting a local workplace parking levy.
London Assembly Transport Committee Chariman, Caroline Pidgeon MBE (Liberal Democrat), said: "Over a decade ago, London led the world by introducing a Congestion Charge in the centre of the city. The scheme has proven successful, keeping a lid on private motor traffic and creating new space for buses, cyclists and pedestrians on the busiest part of our road network.
"However, congestion has begun to increase sharply again, and not just in central London but across the capital. Traffic has slowed down and road users are spending longer stuck in delays.
"What is clear is that the current Congestion Charge is no longer fit for purpose – it is a blunt instrument using old technology that covers a tiny part of London. Fundamentally, vehicles should be charged according to their impact on congestion. Charging a daily flat rate to enter a zone may discourage some people from using part of the road network, but this approach is failing to target vehicles spending longer on the roads, at the most congested times, and travelling in other areas where congestion is high."
The full report can be read at https://tinyurl.com/zexzj2g