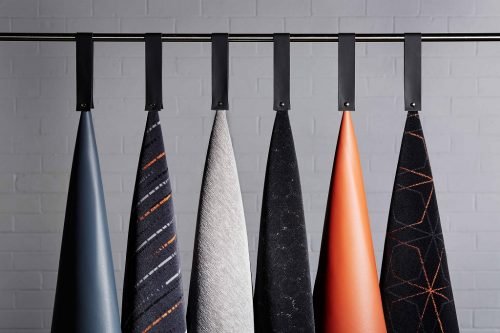 Camira has launched its newest wool rich moquette fabric for transport seating.
Aura Twist is a wool rich moquette which is re-interpreted into modern, geometric inspired designs on a darker background with carefully selected accent colourways. The designs combine linear, architectural and structural patterning in a variety of scales.
The Aura Twist collection comprises 18 distinctive designs.
Ciara Crossan, Design Manager for Transport at Camira, commented: "Aura Twist is a contemporary wool rich moquette which brings a modern spin to transport fabrics. The individual designs are complemented with strong colours to bring out the pattern, working with coordinates from our other fabric, vinyl and leather ranges.
"The collection of fabrics are designed for longevity in both quality and aesthetics, meeting all international flammability standards."
Aura Classic, Camira's bestselling Aura collection and now renamed the Aura Classic collection, has been streamlined to 14 designs. Any of the original designs that don't appear on the revised pattern card are available to order with a 50-metre minimum requirement.
All Aura Twist designs can be made to order using colours from the Aura Classic range, and all Aura Classic designs can be made to order using colours from the Aura Twist range. Both fabric ranges meet all international bus and coach flammability standards, including the new European Flammability Regulation 118.02, as well as meeting all international railway safety and flammability standards.