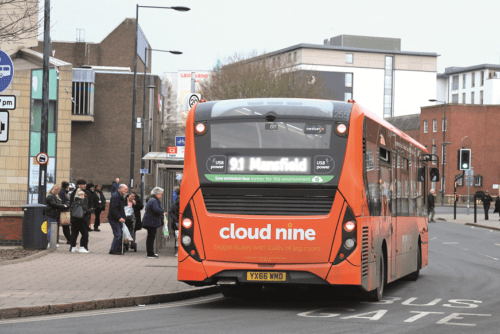 A new campaign has been launched to encourage older people to use their free bus pass more during the summer, in a drive to increase bus travel, which the Government says will also boost well-being for older and disabled people as well as support services and help grow the economy.
Launched on Saturday 15 July, the 'Take the Bus' campaign is targeting people aged 66 and over and disabled people who are eligible for a concessionary pass, to encourage them to use the free bus travel available, at a time when statistics show concessionary journeys are down by more than a third since before the pandemic.
The campaign has been designed to remind pass holders of the benefits of bus travel, including staying active, visiting new places, taking up hobbies and seeing friends and family, while saving money on travel. New adverts will encourage pass holders to take the bus, with posters and social media assets made available for local authorities, bus companies and others to customise, co-brand and use in their area.
Transport Secretary Mark Harper said: "We want those eligible to embrace all the benefits their concessionary pass can bring, with free bus travel allowing them to enjoy great trips out – all they need to do is 'take the bus'. Around £1 billion a year of central and local Government funding goes towards concessionary passes to help older and disabled people get out and about, while saving them money and helping grow the economy."
Industry response
Marketing and Customer Service Director at Arriva Cora Woodhouse commented: "We're pleased to be working with the DFT to support and encourage concessionary travel across our network. We are keen to remind the communities we proudly serve every day that we are here to connect them to the places they want to get to and the people they love and for no cost with a concessionary pass.
"There are many places you can use our services to visit and enjoy days out and of course, taking the bus offers an environmental and social benefit too! Here at Arriva we will be extending the reach of the DFT campaign, pushing the campaign via our website, email, social channels and app, we will also be investing in a paid for media campaign alongside local community events, firstly in Yorkshire and the East Midlands with the view to then roll out across our full network."
David Sidebottom, director at Transport Focus, said: "Passengers tell us that buses are a vital lifeline to help them see family and friends, visit high streets, get to essential appointments, and connect them to the places and things they love. This campaign is great news for bus pass holders and hopefully they will take full advantage to get out and about and travel to places old and new.
"In Transport Focus's forthcoming research 91% of free pass holders told us they knew a fair amount about their local bus service, so now is a great time to give it a go and take the bus."
Simon Pearson, Chief Commercial Officer at First Bus, also welcomed the idea. He said: "The bus is an ideal way for older people to get out and about and enjoy life in their local area and beyond. Bus travel adds the experience of the day, whatever you have planned. At First Bus we're excited to welcome more customers on board to discover where a concessionary pass can take them."