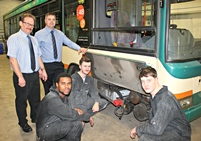 Cardiff Bus has donated a bus to Cardiff and Vale College (CAVC) to help students of the automotive department with their practical experience.
The Dennis Super Pointer Dart, 'W364VHB,' which was numbered 364 in the municipally-owned operator's fleet, will provide students with the opportunity to get practical, hands on experience of working with buses.
Gareth Mole, Engineering Director of Cardiff Bus, said: "Donating a bus to the local college is a great way for us to give back to the community and share a gesture of our thanks to those who are the future of engineering. It's great to know that the bus will be put to good use and having it at the college will enable students to gain experience."
Through CAVC's automotive courses and apprenticeship training programmes, students train to be automotive engineers and can then choose to specialise in working with cars or heavy vehicles such as trucks and buses, or become a specialist in body repair and refinishing.
Tutors at CAVC, the only college in Wales to offer the bus and coach apprenticeship, will task students who choose to specialise in heavy vehicles with finding staged faults on the bus and ask them to fix them in order for the students to gain the skills needed to solve issues that may arise on vehicles when in the workplace.
CAVC Commercial Vehicle Course Tutor, Robert Court, said: "Our commercial vehicles course is very practical and that's something the students really appreciate. By working on vehicles that are being used by companies, they get valuable experience that they can use in the workplace.
"The awarding body states that the vehicles our students work on have to be of a certain age, which means that it can be very expensive for us to constantly replace what we have here, particularly for bigger vehicles such as buses and lorries.
"There are currently over 4.7million people employed in the automotive industry and this is expected to grow. The donation from Cardiff Bus means that we can continue to teach our students the skills needed to progress into a career in the automotive industry."