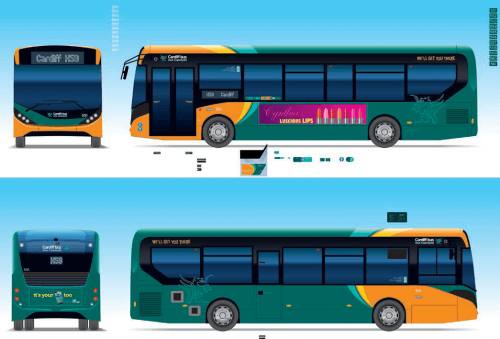 Ten brand new 9.7m ADL Enviro200 MMCs to be brought into service in March
Cardiff Bus has announced plans to invest £1.5 million in 10 brand new 9.7m ADL Enviro200 MMCs as it continues to improve its offering for customers. The high-tech buses are made in Britain by Alexander Dennis Ltd in Scarborough, and will offer an improved passenger experience complete with CCTV, contemporary interiors, comfortable seating, free 4G WiFi and USB charging points, the operator claims.
The vehicles will be brought into service in March this year and will have the latest next-stop announcement systems to ensure Cardiff Bus' services are accessible to all. The distinctive livery on the new vehicles was designed by Best Impressions.
Asked by CBW what the new buses would be replacing, Cardiff Bus said that they were additions to the fleet.
Cynthia Ogbonna, Managing Director at Cardiff Bus, commented: "We are continuously looking for ways to improve our services and are looking forward to adding 10 new buses to our exisiting fleet.
"These new buses offer comfortable seating and high-quality interior design to give our customers an enjoyable ride.
"There will be USB power charging points and free fast WiFi so customers can make the most of their journey
with us.
"These new vehicles will also be of the latest environmental standards using Euro 6 engines making them amongst the most environmentally friendly in our fleet and within Wales.
"The next-stop audio and visual system has been a standard feature on all our new buses since 2013 and we now have around a third of fleet fitted." Over the last five years, Cardiff Bus has invested over £10 million in new buses as part of an ongoing commitment to improve its fleet and service.
Cynthia continued: "This is a continuation of investment that has been happening over the last five years to improve the comfort, look and life of our current fleet. "The new fleet will enhance the reliability of our service, which is the single most important factor that customers, and potential customers, take into account when deciding to use our services."
Cardiff Bus is a major provider of bus services with its network covering Cardiff, the Vale of Glamorgan and to/from Newport. Every year its fleet of 220 buses carry more than 28 million customers.