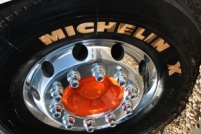 In December 2011 CBW teamed up with Michelin to launch a nationwide search to find three coach fleets to trial the manufacturer's latest Energy SaverGreen coach tyres. The study is expected to illustrate how the use of Michelin technology, including the patented 'Energy Flex' casing, can help reduce the fuel consumption of coaches covering long-distances at high average speeds.
Following strong interest, CBW and Michelin have shortlisted possible applicants to take part in the year-long tyre trial. Michelin technical managers are currently visiting these fleets to ensure that the necessary reporting structure is in place to enable an accurate comparison to be drawn between the trial tyres and the fleet's current fitments. For instance, in order to ensure consistency, the fleet must have at least one year's worth of fuel records for any vehicles running in the trial.
The first fleet selected to take part is Salsburgh-based Bruce Coaches – an operator for which high mileages are a daily occurrence.
Commenting on the selection of Bruce Coaches, Brian Porteous, Michelin UK technical manager, told CBW: "I understand this well-known Scottish fleet is a very high mileage coach operator. Their detailed fuel reporting and commitment to fuel saving would seem to make them an ideal candidate for the trial.
"The coaches we'll be focusing on clock-up approximately 7,000 km a week, making the potential for fuel saving significant. We hope this trial will develop some interesting comparative data," he adds.
CBW and Michelin plan to announce the next two trial fleets soon, with the 12-month study officially commencing soon after.