Shearings is taking delivery of 30 Mercedes-Benz Tourismos to its new Celebration Class specification.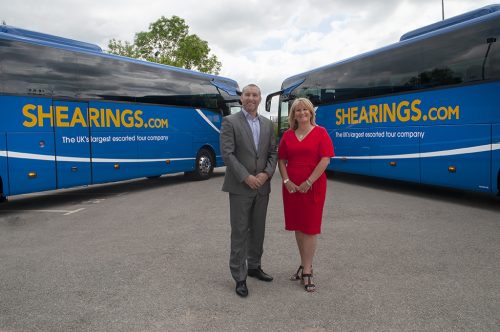 Each vehicle is being named in honour of loyal customers and drivers both past and present, and two of the new coaches have been presented at the firm's Wigan head office.
Shearings Holidays Managing Director, Jane Atkins, said: "It was so exciting to have two of our brand new coaches outside our new offices for everyone to see! We held a small naming ceremony for each coach with the two families involved and it was wonderful for them to see it for themselves."
The new vehicles have re-designed interiors include new lateral movement seats to allow more 'elbow room' (the aisle seat can shift out into the aisle) plus additional impact protection technology, integrated satellite navigation systems and all terrain auto cruise control, which enables the coaches to provide a safe, smooth and consistent journey by 'sensing' road conditions, gradients as well as the presence of other road users.
The saloon specification also includes individual USB charge points and WiFi, plus a new in-coach entertainment system that is due to be launched soon.