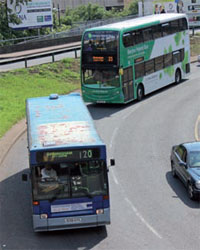 Transport professionals from across Europe are joining forces with Centro in an attempt to cut carbon and boost the economy.
The West Midlands PTE will share ideas with counterparts from Italy, Czech Republic, Poland, Spain and Netherlands as part of the Involve project which aims to find ways to reduce congestion and improve links to jobs.
Delegates will be shown the West Midlands' green schemes including Birmingham Interconnect project and Local Sustainable Transport Fund schemes as part of the three year initiative.
Centro staff will examine ways to tackle congested roads, which it is said, costs the region more than £2.3bn each year.
Rafael Cuesta, Centro's Head of Strategic Development, said: "It is often overlooked how transport plays a significant role in supporting our region's economy by connecting people to jobs, training and education. And by working with other countries we can find new ways of working and hopefully pass on some of our own ideas." The scheme was made possible by the Interreg 4C programme and co-financed by the European Regional Development Fund.
More information on Centro can be found at www.centro.org.uk