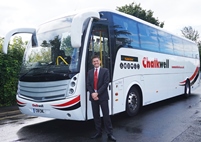 Throughout May, commuters on Chalkwell coaches to London will be able to buy five day tickets on the coach for £49, instead of the normal £72 or £75.
At the same time, Sittingbourne-based Chalkwell is introducing new four day tickets for £58 in Maidstone and Kings Hill and £60 in Swale and Medway.
Commercial Director Roland Eglinton said the operator anticipates that the four day tickets will remain as a permanent feature.
He explained: "We recognise that many people who work in London take a Friday or a Monday off work and don't want to pay in advance.
"So the four day ticket, which is valid for four consecutive days, is ideal for them.
"In addition, people can still apply online for a free four journey GoCard, a smart card ticketing system, if they want to give us a try before committing to a five day or four day ticket."
Roland added: "Because the GoCaord it is new technology, commuters have been keen to embrace it.
"The multi-journey tickets have proven to be a hit because commuters only purchase for the exact amount of travel they need to make. This particularly suits people who only travel to work in London three or four days a week. GoCard resonates with their lifestyle."