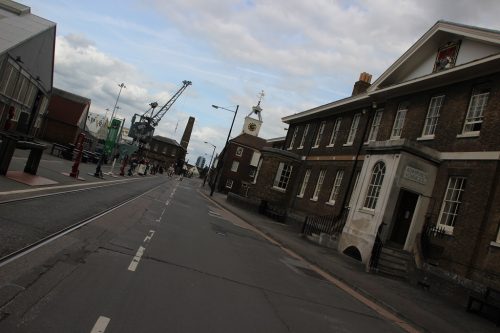 With the Call the Midwife TV series currently showing on BBC1 on the primetime 2000hrs Sunday evening slot, The Historic Dockyard Chatham, a museum that has been the backdrop for many of the show's most iconic scenes has launched the official tour for the programme.
"We are very excited that the new tour will be re-worked and overseen by the show's producers. It will feature material from the latest series, as well as props, costumes, sets and of course a costumed Midwife," Susanna Hodder, PR & Marketing Assistant told CBW.
"Keep an eye out on the website at thedockyard.co.uk/whats-on/call-the-midwife-location-tours/ for dates and tickets soon."
Group rates to museum, which was featured as part of CBW's 'Catering for Coaches' series last Autumn, are: Adult £15.50, Concession (Senior Citizens; Students) £14.00, Child (aged 5-15 years) £11.50. Group rates (up to 25% discount) apply to parties of 15 or more paying visitors – there is free admission for the group organiser and coach driver.
Later in the year, groups can enjoy the ever popular Salute to the '40s event on September 16 and 17. Attractions will include dance groups and 1940s entertainers, military trucks, jeeps, re-enactors, encampments and anti-aircraft guns, civilian vehicles and re-enactors depicting life on the home front – as well as a vintage fair and parade of vintage fashion, all of which will add to the authentic feel and make Salute to the '40s a 'spiffingly nostalgic' event for groups.
Christmas events include a three-course Christmas lunch or dinner with a complimentary glass of prosecco on arrival.
Susanna added: "There will be access to our award-winning Command of the Oceans gallery and an evening disco – not forgetting our perfectly festive Christmas shop where you will find all those perfect stocking fillers and presents full of nautical and Kentish treats as well as much more."
The dockyard has also confirmed dates for two of its popular events for 2019: Festival of Steam & Transport – April 21 and 22; and Salute to the '40s – September 21 and 22.
For group rates and to make book a group booking, call 01634 823815 or email [email protected] Visit www.thedockyard.co.uk.