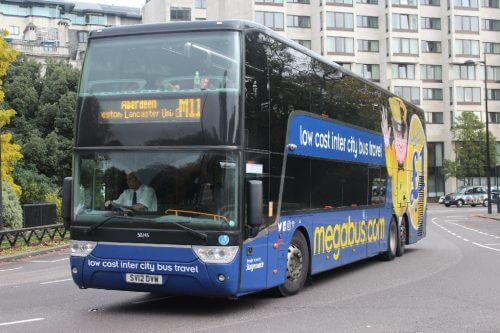 CBW examines some of the Christmas services which operators are offering this festive season
Several coach and bus operators are offering special services over the Christmas period this year, helping people to travel to their families and to reach the boxing day sales.
megabus.com and Scottish Citylink
Stagecoach-owned coach operators megabus.com and Scottish Citylink plan to run coach services throughout the festive season across the UK.
megabus.com will provide around 1,500 seats on its services on Christmas Day this year, serving 27 locations across Scotland, England and Wales including London, Glasgow, Edinburgh, Dundee, Aberdeen, Cardiff, Swansea, Birmingham, Sheffield, Manchester, Liverpool, Leeds, York, Newcastle, Sunderland, Middlesbrough, Coventry, Leicester, Loughborough, Nottingham, Derby, Newport, Bristol, Swindon, Milton Keynes, Rugby and Cwmbran.
On all other days throughout Christmas and New Year, including New Year's Day, megabus.com will operate a near-normal service on most routes across the UK, with minor changes to timetables.
On New Year's Eve, megabus.com will again operate special services departing London after the New Year celebrations and will provide links to Swindon, Bristol, Newport, Cardiff, Cwmbran, Norwich, Havant, Portsmouth, Southampton (City Centre and Airport Parkway), Bournemouth, Poole, Milton Keynes, Rugby, Coventry, Birmingham, Manchester, Leicester, Loughborough, Nottingham, Sheffield, Leeds, Middlesbrough, Sunderland and Newcastle.
On Hogmanay, megabus.com services will also depart at 0200hrs from Edinburgh to Newcastle, Leeds, Sheffield and London.
megabusGold.com overnight sleepercoach services will also continue to run throughout the festive season, including Christmas Eve, Christmas Day and New Year's Day. Sleepercoach services will not operate on New Year's Eve.
In Scotland, for the first time, Scottish Citylink will provide a special 900X service on Christmas day, with two journeys in each direction between Edinburgh and Glasgow.
The operator will also once again run special coach services for people travelling home from the Edinburgh Hogmanay celebrations. Services will depart from the Scottish capital to 12 locations across Scotland – Glasgow, Kinross, Perth, Dundee, Dunfermline, Kirkcaldy, Glenrothes, St Andrews, Livingston, Grangemouth, Falkirk and Stirling – after the official New Year celebrations have ended.
All services must be pre-booked using 'Edinburgh, Hogmany' as the origin and will leave from Edinburgh Bus station.
Edward Hodgson, Managing Director of megabus.com, commented: "We know the festive period can be a busy and costly time of year for many people and we are pleased to be playing our part to helping people access good travel links and save money by offering great value coach travel across the country throughout Christmas and New Year.
"We hope our services will make it easier for people to visit family and friends and to enjoy the festivities."
Robert Andrew, Managing Director of Scottish Citylink, said: "We are delighted to be offering for the first time a special 900X service on Christmas Day.
"The service will provide two journeys in each direction between Edinburgh and Glasgow. Hogmanay revellers in Edinburgh will also be able to use our services to travel home to 12 locations across Scotland. We look forward to helping our passengers have a fantastic festive season."
West Yorkshire Combined Authority
Once again, West Yorkshire Combined Authority will be funding Boxing Day bus services this year.
Buses will be running on almost 90 routes, every half hour between 0900 and 1800hrs on main West Yorkshire routes to city and town centres, retail locations and hospitals.
Destinations include Airedale Hospital, Birstall Retail Parks, Bradford, Brighouse Castleford, Dewsbury, Halifax, Hebden Bridge, Huddersfield, Leeds, Leeds Bradford Airport, Pontefract, Pontefract Pinderfields & Dewsbury Hospitals, Shipley, Todmordon, Wakefield Wetherby and the White Rose Centre.
All-day adult tickets cost £3.50 and adult single tickets cost £2.00. Young people with an Under 16 PhotoCard or a 16-18 PhotoCard can get an all-day ticket for £1.00. MCard, MetroCard and ENCTS pass concessions are valid.
West Yorkshire Combined Authority Transport Committee Chairman, Cllr Keith Wakefield, said: "This is the ninth year we have funded these bus services, which last Boxing Day local people used to make 55,000 journeys.
"By funding these services to provide people with transport to the main areas where shops will be open on Boxing Day, the Combined Authority is supporting the local economy and jobs, as well as enabling people to meet family and friends, visit people in hospital and enjoy events like the Wetherby races."
The services operating over the period include 46 First services, 13 from Arriva, six from Transdev, three from Yorkshire Tiger and a single service from Tetley's.
Stagecoach South West
Stagecoach South West has confirmed details of its Christmas bus services, with services operating throughout the holiday period excluding Christmas Day and New Year's Day.
Stagecoach will be running special services on Boxing Day on the following routes:
 Exeter (A, E/F2);
 Cranbrook (4);
 Crediton (5);
 Exmouth (57);
 Torbay (12);
 North Devon (21); and
Plymouth (1, 2)
In addition, there will be a special Boxing Day timetable running on the South West Falcon, connecting Devon and Somerset with Bristol Airport and Bristol City Centre. For those celebrating New Year in the South West, the Falcon service will also be running through the night on New Year's Eve and throughout New Year's Day.