The first of the Irizar i6S-bodied vehicles will join the fleet in March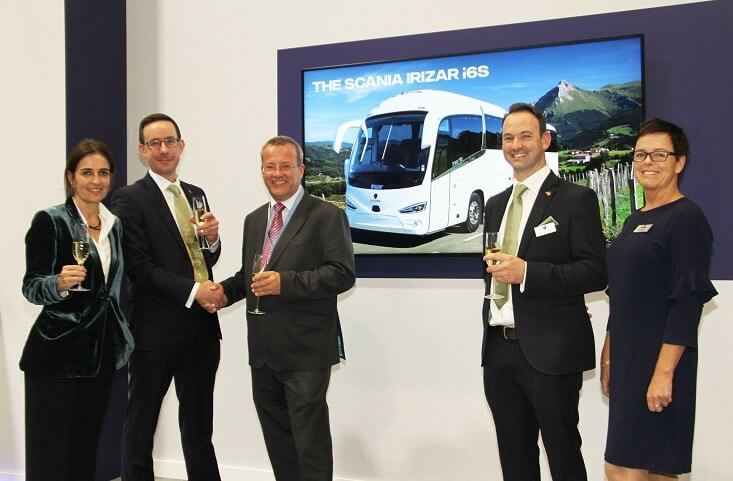 City Circle's Managing Director, Neil Pegg, has confirmed an order for 17 new Scania Irizar i6S coaches for delivery in 2019. The order, which was placed at Euro Bus Expo, will take the total number of Scania vehicles the operator has purchased since 2013 to 98.
City Circle has opted for 15 Scania K410EB6x2*4 chassis with 13.2m Irizar i6S bodywork.
The vehicles will have 53 reclining passenger seats with leather and extra padded flaps, a centre sunken toilet/washroom and Frenzel kitchen located at the centre continental exit.
Additional features will include reversing and road cameras and integrated satellite navigation.
The final two vehicles are based on Scania's K360EB4x2 chassis, and are fitted with 10.8m i6S bodywork.
These will feature 36 reclining seats with half-leather trim, a rear floor-mounted toilet and washroom as well as a servery at the rear of the coach with built-in units for fridges and drinks, fitted by AD Coach Systems.
All 17 new vehicles will come equipped with dark tinted glass and Alcoa Dura-Bright alloy wheels as well as WiFi, a CCTV system and USB charging points for all the passengers.
The transmission of choice for all 17 is Scania's fully automated Opticruise system. The first coaches to arrive will join the already all-Scania fleet in March 2019. Thirteen of the vehicles are part of a fleet replacement programme and four will be additions to the fleet.
Neil Pegg said: "Scania went over and above for me back in 2013 by designing a vehicle to our specification that wasn't in the Scania or Irizar range. From that day on, we've continued to have a strong working relationship and we've had close to 100 vehicles as a result."