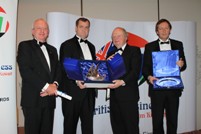 KUWAIT Richard Woods, CEO of Kuwait's leading public transport operator City Group Co. (CGC), has been awarded a Certificate of Excellence at the 15th annual British Excellence Awards in Kuwait City.
The gala evening, organised by the British Business Forum (BBF), a non-profit association of British business people in Kuwait, recognises and rewards those in the private and public sector for their contribution to British and Kuwait business in 2011. It was held at the British Embassy atrium on Friday, January 27.
Richard joined CGC in 2007, having previous held senior positions at Stagecoach and Arriva. He worked in the UK transport industry for over 25 years.
The evening was attended by guest speaker John Sergeant.
Six certificates of excellence were awarded in total. Other winners included Anthony Coleby, partner and head of corporate advisory at Al Markaz Law Firm, and Rachael Gibson of Top To Toe hair and beauty studio.
CGC's Citybus division has been operating since March 2002. In 2011, it provided over 46m passenger journeys on its 400 regular services across 19 routes.