The first fully-electric double-decker bus hit the streets of Oxford city centre on Monday 9 March. It is the first of five open-top City Sightseeing Oxford buses, owned by the Oxford Bus Company, that are being retrofitted to electric power. The £2.2m funding to convert the buses was provided to Oxford City Council from the Government's Clean Bus Technology Fund and is also being used to retrofit local buses to ultra-low emission Euro VI standard. Oxford Bus Company has so far completed 65 of its 71 vehicle upgrades under this programme.
Part of a strategy to reduce air pollution in Oxford, Oxford Bus Company has invested £350,000 into the upgrades, including £80,000 to install the charging equipment for the City Sightseeing Oxford buses, which includes a battery storage system to harness the energy produced by solar panels on the depot roof.
Over the past two years, Oxford Bus Company has conducted several trials of single-decker electric buses on its services, most recently a BYD single-decker on Park & Ride service 500 and to provide a special Park & Ride service to the Oxford EV Summit in summer 2019.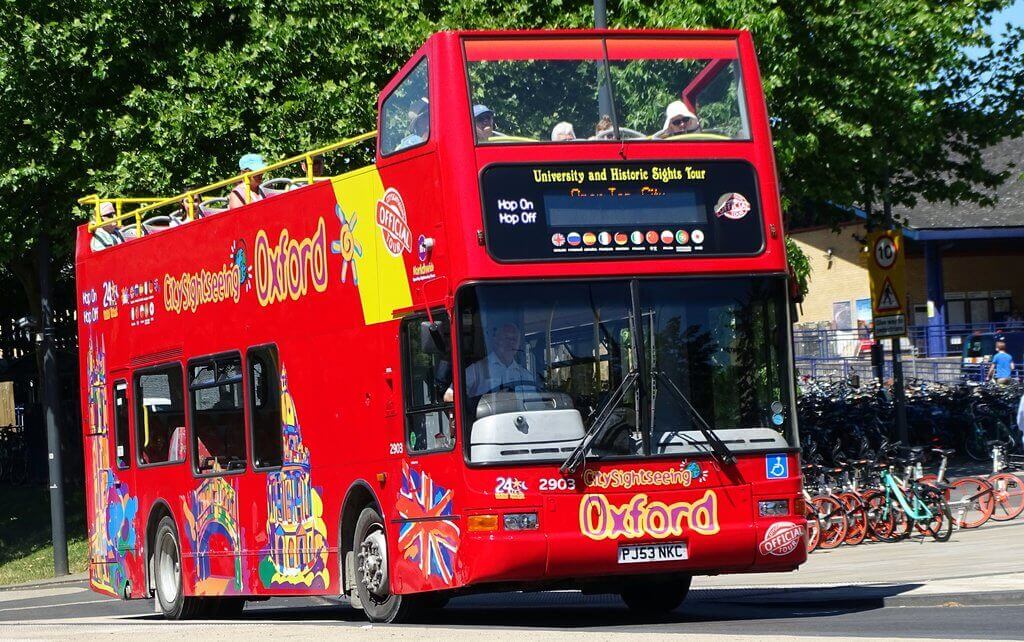 The upgrades are part of the Oxford Bus Company's strategy to be as environmentally friendly as possible, and Oxford City Council's commitment to continue to reduce levels of toxic nitrogen dioxide (NO2) in the city. In Oxford city centre there has been a 36.8% drop in NO2 levels at roadside over the last decade. A key contributor this has been the Low Emission Zone for buses, which was introduced in Oxford city centre by Oxford City Council and Oxfordshire County Council in 2014. In January this year, Oxford City Council and Oxfordshire County Council announced the final draft proposals on the Red Zone for the UK's first city centre zero-emission zone, which could begin in December 2020.
Phil Southall, City Sightseeing Oxford and Oxford Bus Company Managing Director, said: "This is an exciting landmark day in Oxford's journey towards improving air quality in the city via the introduction of more sustainable modes of transport. We're proud to deliver the first electric double-decker bus in the city in partnership with Oxford City Council. We have always been committed to being at the forefront of the industry on environmental technology innovation and over half of our buses are powered by hybrid technology.
"At this stage, battery technology is not yet advanced enough to power buses for a full day's service on the majority of our routes. However, our City Sightseeing Oxford service runs for fewer hours per day and for lower mileage than our other services, and so we're delighted to be able to convert these buses. Over time, our whole fleet of City Sightseeing Oxford buses will be either zero or ultra-low emission, and our entire fleet of vehicles will be upgraded to ultra-low emission standard."
Dignitaries including Cllr Alex Hollingsworth, Cllr Tom Hayes, Cllr Ian Hudspeth and Cllr Yvonne Constance attended the launch. The group travelled from Oxford City Centre to the Oxford Bus Company depot in Cowley on the new electric bus. At the depot, they were shown the charging points, batteries and solar panels that are being used to generate and store the electricity used to power the vehicles.
Councillor Tom Hayes, Cabinet Member for Zero Carbon Oxford, said: "I am thrilled that Oxford's first electric open-top double-decker bus has arrived in Oxford. 2020 is the year that we will see the start of the Oxford Zero Emission Zone – the UK's first city centre Zero Emission Zone. I am delighted by working together with Oxford Bus Company; we can introduce a more sustainable bus fleet to Oxford. Cleaner buses mean that we will have cleaner air and improved health for everyone living, working, and commuting in the city. I am looking forward to seeing more electric buses on the roads of Oxford in the future."