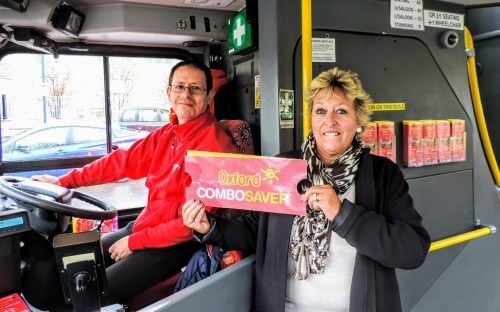 City Sightseeing Oxford has launched an 'Oxperience ticket,' linking bus travel, entry to visitor attractions and discounts in restaurants in the city's Westgate Centre.
Owned by Oxford Bus Company, City Sightseeing started the new ticket deal on Good Friday (March 30). The ticket is available Monday to Friday and is £33 for an adult. It includes the 24-hour 'Hop On, Hop Off' bus tour, incorporating a tour of Oxford Castle and prison, entry to the Sheldonian Theatre and a tour of the Bodleian Library. The ticket also includes discounts at various restaurants in the Westgate shopping Centre.
The ticket is available from City Sightseeing's shop in Oxford railway station via new ticketing machines. The number of Oxperience tickets available will be capped daily and offered on a first come first served basis.
Jane Marshall, General Manager of City Sightseeing Oxford, said: "Oxford is a beautiful city and has some fantastic attractions, but ticketing for visitors has been a little confusing to date, so we have created a package that is simple to access and provides a one ticket solution benefitting customers and the attractions."
City Sightseeing Oxford and the Oxford Bus Company have also combined to provide a 'ComboSaver Ticket', enabling passengers on Park & Ride, X90 or Airline services to add a City Sightseeing bus tour to their day out. Contactless payment technology has also been fitted on the City Sightseeing fleet. Passengers will be able to pay for tickets using Visa, Mastercard, Apple Pay and Google Pay.
Phil Southall, Oxford Bus Company Managing Director, said: "Innovative ticketing offers, and the introduction of contactless technology represent the first part of our fresh investment into the City Sightseeing offer. A key component of our strategy is joining up services and attractions to ensure we provide a world class welcome to the city for visitors."