Coach and bus operators across the UK are currently addressing the COVID-19 pandemic situation after Boris Johnson released further advice and voluntary travel restrictions on all non-essential travel. Many operators have acted immediately by cancelling tours and coach holidays from the end of this week, whilst some bus operators are scaling back operations due to passenger numbers falling following advice from the Government to work from home where possible.
Below is a summary of the changes announced so far.
East Yorkshire Coaches, part of the Go-Ahead Group, is following the Government's advice and has decided to cancel all holidays and day trips until the end of April.
First West of England is making plans to run a Saturday service during the working week from Monday 23 March to ensure it sustains services for those needing to travel across the region. The announcement comes as the Government has advised against non-essential travel and contact as it introduces new measures to deal with the rising number of coronavirus cases.
James Freeman, Managing Director of First West of England, said: "The Government has made it clear that it now wants people, wherever possible, to work from home and avoid any non-essential travel and contact.
"The number of people travelling has reduced significantly and is continuing to diminish, making this an extremely dynamic situation which is changing day to day, hour to hour. By way of bringing some order to the situation we are looking to reduce our Monday to Friday services to a Saturday timetable. This will mean that about 10% of our fleet will be stood down.
"Where we can, we will add extra buses into the morning rush hour to ensure that workers are catered for, It's important to emphasise that this is a fast-moving and unprecedented challenge and we are monitoring new developments as they happen and will respond accordingly and keep all of our customers informed of any further changes.
"This is not a decision we take lightly," he continued. "However, with more and more people choosing to stay at home, this is our best option to ensure services continue running and are as close to 'business as usual' as we can possibly make them.
"In addition, we are working closely with our trade union leaders and will do everything possible to deploy staff across our operations with a view to minimising the impacts for everybody.
"One way or another, we will endeavour to keep services running through this unprecedented time of uncertainty."
Johnsons Coaches and subsidiary Whittles Coaches have cancelled all tours with immediate effect. The company stated: "We find ourselves in extremely unusual and difficult times and In light of the recent Government statement on Monday 16 March, our Management Team have taken the extremely difficult decision to cancel all our brochure and online departures with immediate effect up until the 30 April 2020.
"This is a decision we have not taken lightly, however, given the Government advice we feel we have no choice. Please rest assured that we are doing everything we can to resume normal operation as of the start of May 2020."
Oxford Bus Company, part of the Go-Ahead Group, is delaying the launch of its new airline service from High Wycombe and Maidenhead to Heathrow. This will now launch on 17 May.
Reading Buses has announced a reduction in service to match a fall in customer numbers due to the Coronavirus situation. From Wednesday 18 March, claret 21a buses will not run after the announcement by the University of Reading that students will no longer have face-to-face lectures for the foreseeable future. Students and staff at the University, as well as other customers, will still be able to use the claret 21 which will run up to every 15 minutes during the day.
Most services will, from Monday March 23, run to their Saturday timetables during Monday to Saturday with Sundays remaining normal. Most school day-only journeys will continue to run whilst schools stay open, but will be removed should schools be closed.
Notable variations to help those still commuting include:
jet black 1 will have a Saturday timetable, but with buses adjusted to run into Arlington Business Park;
greenwave will run a Saturday service with an extra 61r service that runs every 30 minutes between Central Reading and Mereoak Park and Ride via Reading International Business Park, Lime Square and Brook Drive.
To reflect the reduced demand in the evening, overnight services on the company's 24/7 routes will be reduced to run at Monday to Thursday night times on all nights of the week. Journeys after midnight that usually run only on Friday and Saturday nights will be cancelled.
The company says that amended timetables are being worked on as quickly as possible and should be online soon. There may also be some disruption to the electronic information system whilst the amended schedule is being created and loaded in.
This reduction in service is designed to match the fall in customer numbers and to ensure that the company can best manage resource during this unprecedented situation in a way that can be easily communicated.
Said Robert Williams, Reading Buses Chief Executive: "We are currently facing a situation that no one could have predicted. We are having to reduce our service level to balance low customer numbers and available resources.
"With the government advising more people to stay at home and avoid public gatherings, the number of people travelling on our services has fallen dramatically and we expect that to continue this week.
"We have, therefore, made the decision to switch to a Saturday service from next Monday to compensate for this. We will still be running buses around the town and beyond for those who can still travel.
"Obviously, the safety of our employees and customers are of vital importance to us. As well as reiterating Public Health England's best practice guidance on hand-washing and hygiene to all our employees, we already have extensive cleaning programmes in place for all of our buses each evening, now supplemented with further cleaning to ensure all potential hard-surface contact areas, including bells and hand-poles, are regularly sanitised."
Robert also outlined how the company will operate during this period: "We are already planning for which members of which teams can follow government advice and work from home and which workers need to be physically on site.
"Obviously, our drivers, engineers and cleaners cannot work from home so we will be monitoring their health and wellbeing during this critical time. It is important that we all stay calm and keep things moving where we can. We will, of course, continue to monitor both the number of customers travelling on the buses and the advice of the Government."
RailAir, operated by First Berkshire, was the first express coach service operator to announce that it is to reduce service levels. RailAir 1 will operate to a Saturday timetable on Monday to Fridays from 23 March as demand for travel to Heathrow has dropped.
The Original London Sightseeing Tour, owned by RATP Group, has suspended operations and issued the following statement: "Following the statement given by Prime Minister Boris Johnson on 16 March, The Original Tour has made the decision to suspend their sightseeing bus tours of London from Tuesday 17 March until further notice.
"The safety of both our colleagues and our guests is of the utmost importance to us and we feel this is the right decision to make under the circumstances. We apologise for any inconvenience this may cause.
"We will continue to closely monitor the advice of the UK Government and relevant Health Authorities. We intend to re-commence our service when we consider it is safe to do so, however we do not believe this is likely prior to 21 April. We will keep you updated as to this decision."
Snap, the on-demand intercity coach service, has announced that it will limit coaches to 50% occupancy to ensure social distancing is in place. It has also extended there no-quibble refunds policy until further notice.
Specialist Leisure Group companies Caledonian Holidays, National Holidays and Shearings Holidays issued the following statement on its social channels: "Further to the government announcement yesterday evening we will be unable to operate any holidays from 18 March up to and including 30 April and so will be postponing or cancelling these departures."
This move means that the group's fleet of 240 coaches will be parked up during this period.
Mayor of London, Sadiq Khan has decided that Transport for London (TfL) services will be reduced to Saturday service levels of operation from 23 March for a number of weeks. He emphasised that he did not want to shut public transport down completely because hospital staff and emergency service staff rely on the TfL network to get them to and from work.
Trent Barton is temporarily allowing concessionary bus passes to be used before 0930hrs so that the vulnerable and elderly can take advantage of the supermarkets and banks making special arrangements for exclusive access to food and services.
Meanwhile, two coach operators took to social media to highlight the plight of hundreds of coach operators that have vehicles parked up due to having no work at the moment. David Jeakins of Jeakins Coach Travel wrote: "Our industry has been decimated in just a few weeks. Jeakins and Lianne only have one hire this week that's not a school contract; if the schools then close most operators will do too.
"Airlines and rail asking for help and we have nothing. A typical coach operator in the UK is family-owned, coaches cost hundreds of thousands of pounds. They are generally secured against the family's houses and if they go pop now, the houses will be lost and not only will that lead to unemployment and homelessness, but the chances of them restarting are very low.
"Coaches are a vital part of society, you may just not see it on a daily basis, but we are the answer to environmental issues and traffic relief solutions. We move children to and from school, tourists bringing in money, commuters to and from work, we replace the airlines and railways when they're in need and the list goes on. You'll miss us when we're gone."
Meanwhile, Kevin Mayne of Maynes Coaches designed the following artwork and the hashtag to go with the text.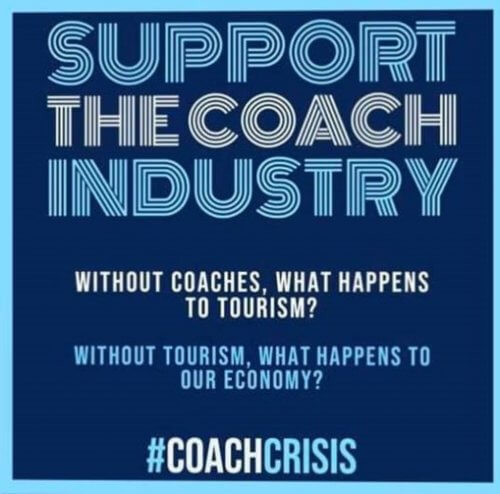 This post has been shared over 540 times, mainly by fellow coach operators on their own social media channels, and has attracted some positive comments.
Additionally, Samantha Nicholson, a share holder of a small local coach company in the northeast, has started a change.org petition to ask the government to help all small businesses.
She wrote: "We are due to lose everything because of the effects of the coronavirus and the travel industry has not received any help in any way but is still expected to make massive payments and with all work cancelled it is not realistic.
"A lot of companies like ourselves are on the verge of becoming bankrupt and also putting thousands of people out of job throughout the industry from coach operators, directors, coach drivers, mechanics, transport managers, cleaners and many more through no fault of our own. We are all the ones suffering the backlash due to this pandemic.
"So I would like to start this petition to ask Boris Johnson what he is going to do to help to stop a lot of people losing everything they have all worked so hard for.
"We need help to suspend business rates, building mortgages/rent payments and high finance payments to give companies a fighting chance to survive throughout the next two months due to everywhere being in lockdown. All lines of work are cancelled until May if not further into the future; this needs to happen to give companies the chance to get back up again once the pandemic is under control."
At the time of going to press, this petition has attracted over 2,700 signatures.
Bus enthusiast events are also being cancelled, with Stagecoach West's Managing Director Rupert Cox confirming on Thursday 18 that the new 'Buses through the ages' event in Cheltenham will now be postponed, with the hope of finding a new date in the autumn. Other events cancelled/ postponed include:
Amersham & District Motorbus Society Dorking running day is postponed,  Bournemouth bus rally is cancelled, Cardiff Transport Preservation Group Trust Spring heritage running day is cancelled, Chippenham Bus Rally is postponed, Glasgow Vintage Vehicle Trust's open Sundays in April and May are cancelled, Grettons Coaches open day is cancelled, Oxford Bus Museums twilight running event is cancelled, Penzance running day is cancelled, South East Bus Festival is cancelled, Stagecoach North West Carlisle open day is cancelled,  Wythall Transport Museum's Easter riding days are cancelled
The Isle of Wight Bus Museum and the The Scottish Vintage Bus Museum will remain closed until further notice.