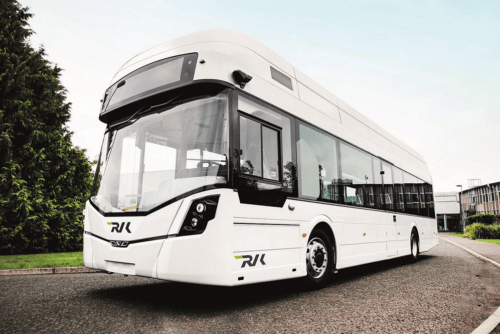 GERMANY
As part of Germany's National Innovation Programme for Hydrogen and Fuel Cell Technology (NIP II), Cologne operator RVK has received aproval for the construction and operation of a hydrogen filling station including an electrolyser for the production of green hydrogen. The filling station and electrolyser are part of a planned training and further education centre for digital and climate-neutral mobility in Mechernich. Both investment projects were approved by Germany's the Federal Ministry for Digital Affairs and Transport. District Administrator Markus Ramers said: "We are strongly committed to this environmentally and climate-friendly technology and want to develop it together with our partners as we move forward."
Around two years ago, the district of Euskirchen saw the need for action and the future potential of hydrogen use and decided to actively support it, and the operator now has one of the largest fleets of hydrogen-fuelled buses in Europe, including a large number of Solaris vehicles. It also placed the first European order for Wrightbus' GB Kite Hydroliner, with up to 60 to be delivered over two years.
€5.92 million is being spent on the planning and construction of a public hydrogen filling station, where private cars, trucks and up to 35 RVK fuel cell buses per day can be refuelled with hydrogen. The supply of hydrogen to the filling station will come from on-site production using an electrolyser, which will have an output of approximately 1.5mW and will be supplied with power from renewable sources, such as wind, biomass and solar, in line with the funding guidelines. The production of the electrolysis system will cost around €1.4 million.
The plant in Mechernich will expand the growing H2 filling station network in Germany for heavy goods vehicles. In addition, a training and further education centre for climate-neutral and digital mobility is set to be built by 2027 with an academy for training and further education, a local transport competence centre, an area for driver safety training and refuelling infrastructure. There will also be a special focus on the handling and use of environmentally friendly technologies.
RVK Managing Director Marcel Frank said he is looking forward to the project with excitement: "In the consistent continuation of our 'Zero Emission' project, we want to promote hydrogen technology in the region together with our shareholder Kreis Euskirchen. And for this development we also have to break new ground."