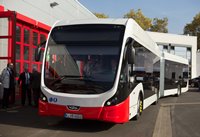 KVB is to operate eight VDL SLFA Citea SLFA-180 Electrics which will recharge at the end of the route using overhead pantographs
GERMANY The first of eight VDL Citea SLFA-180 Electrics has been handed over to Cologne-based KVB (Ko?lner Verkehrs-Betriebe). The articulated vehicles are fitted with what the manufacturer describes as an "opportunity charge system." Customers have several electric drives, battery packs and charging systems to choose from so the ideal combination can be created for any application. Recharge takes place at the end of the route using roof-mounted pantographs fitted to the vehicles.
The Citea SLFA Electric combines features from the Citea Electric and articulated Citea SLFA. The modular system from which the Citea range is built played an important part in the development of this electric variant. It enabled easy integration of the electric components without compromising design qualities such as the vehicle's lightweight construction, optimum accessibility and comfort.
North Rhine-Westphalia State Minister for Transport Michael Groschek, KVB Chairman Ju?rgen Fenske, KVB Board Member for Technology Jo?rn Schwarze and Managing Director VDL Bus & Coach Re?mi Henkemans were present at the handover. "We are very much looking forward to seeing the buses in service and I'm already looking forward to my next visit to Cologne," said Re?mi.
KVB is the fourth largest municipal passenger transport company in Germany, provides public transport in Cologne and the surrounding area. Its fleet consists of 367 trains and trams and over 300 buses. More than 850,000 passengers are transported daily.