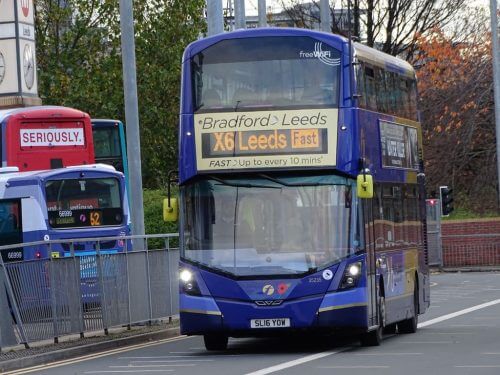 The West Yorkshire Combined Authority is due to take further steps in response to the sale of bus operations in the region at its meeting next week.
Members will be asked to agree funding for expert advice to support the Combined Authority as it considers how it might take part in the sale of First West Yorkshire.
The expert advice will also inform the Combined Authority's wider approach to the future of bus provision as the Government expresses renewed interest in strengthening bus services. More than 140 million journeys are taken on buses every year in West Yorkshire with First West Yorkshire carrying 70% of bus passengers. The Combined Authority has a target to increase bus patronage by 25% between 2017 and 2027.
Cllr Kim Groves, Chair of the West Yorkshire Combined Authority Transport Committee, said: "Buses are already crucial to West Yorkshire communities, providing essential connections for people to access work, education and services and we need to significantly increase passenger numbers if we are to cut congestion and tackle the climate emergency while growing the economy. Through the West Yorkshire Bus Alliance we are working in partnership with operators to encourage more people to take the bus through improved reliability, information, ticketing and better vehicles.
'However, given the importance of buses to our communities now and into the future, it is vital we consider all the opportunities and risks presented by the sale of First West Yorkshire. The Government's renewed interest in the role of bus services may also present further opportunities to ensure our communities are better served. The expert advice we are seeking will support both these objectives." The Combined Authority will discuss the future of bus services at its meeting on Thursday 10 October at 1100hrs.
Read more news here: cbwmagazine.com/category/news