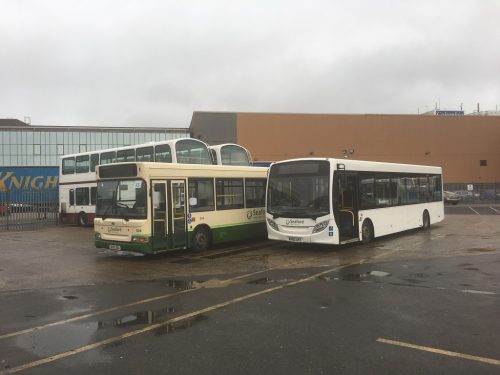 Two services taken on after Seaford & District announces it is to withdraw from running daytime routes, with a replacement operator sought for another two
Compass Bus took over two of Laughton, Ringmer-based Seaford & District's (S&D) bus routes from January 8, 2018 following S&D's decision to withdraw from running its daytime bus services.
Routes 228/229 Crowborough to Tunbridge Wells and 261 Uckfield to East Grinstead are the routes that have transferred. While Compass Bus is Worthing, West Sussex-based, it already has a significant presence in East Sussex operating from the Phoenix Industrial Estate in Lewes. It also has an operating centre at Dunsfold near Cranleigh in Surrey.
There are no changes to timetables or fares on the transferred routes. Compass Bus has acquired an Enviro200 from S&D and while a sister vehicle is also being loaned from S&D, a Plaxton Pointer Dart from that operator has been used in the interim.
According to East Sussex County Council, Seaford & District is to withdraw a total of four routes. A replacement operator is being sought for the 125 (Lewes-Alfriston to Eastbourne) which finishes on February 10 with the local authority and S&D advising that the new service may run on a reduced number of days thereafter. The 228/229 was also scheduled to end on February 10 although has now been taken over by Compass Bus. When announcing the changes, the local authority was able to advise that route 261 would not be affected as agreement had already been reached for it to be transferred.
Route 231 (Uckfield to Hurst Green) is contracted by East Sussex County Council until March 31. Again the local authority explained that any replacement service might not be as comprehensive, pointing out that S&D has provided an improved hourly service between Uckfield and Heathfield.
Other school routes operated by S&D serving Ringmer Community College, Chailey School, Heathfield Community College and Sir Henry Fermor School in Crowborough are not affected by the changes.