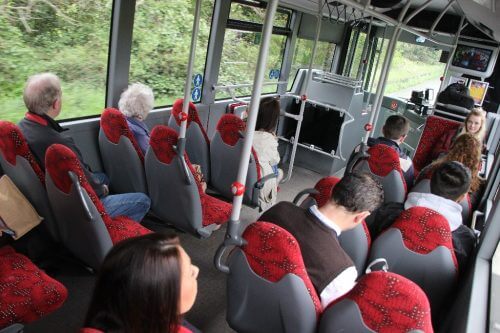 Transport Focus survey reveals that the negative influence of traffic congestion is having an impact on the passenger experience, though overall satisfaction remains high
Transport Focus has released its bus passenger survey results for 2016, which have revealed that while passengers may be generally content with their service, congestion and traffic jams are beginning to impact on their overall satisfaction with their bus journeys.
The survey, which involved 47,000 bus passengers in England and Scotland, found that more than a quarter of journeys in England were held up by congestion.
David Sidebottom, Director of the independent watchdog, said: "Passengers tell us they want a frequent, punctual and reliable service which offers value for money: the 'core product'.
"The results show that despite satisfaction levels remaining high, increasing road congestion and the impact of road works is hitting the ability to deliver these basics in some of our towns and major cities.
"While 87% of all passengers in England were satisfied with their local bus service (86% in 2015), congestion is impacting on passenger ratings for punctuality and waiting times in those places.
"Satisfaction with punctuality ranged from 65% to 84% (averaging 73%) which is down from an average of 75% in 2015.
He continued: "We have seen some excellent initiatives of bus operators and local authorities working together to deal with the challenges facing their areas such as congestion.
"The West Midlands Bus Alliance and the newer Liverpool City Region Bus Alliance are examples of partnership working that should become easier once the forthcoming Bus Services Act is implemented in England. Such a concerted effort, combined with the survey results, should help achieve one of the aims of the legislation – to improve the passenger experience."
Transport Focus highlighted that in some areas, satisfaction with value-for-money is improving. There are indications this may be helped by operators and authorities introducing simple, affordable flat fare deals for younger passengers in places such as Milton Keynes.
To further investigate this, the organisation is due to ask young people aged between 14 and 19 what they need and expect from public transport and bus travel specifically. This new research, expected in the summer, aims to better inform the industry of young people's priorities.
In Scotland, Transport Focus surveyed over 9,000 passengers from the Highlands to Dumfries and Galloway, with overall passenger satisfaction at 90%. Satisfaction with punctuality since the last survey in 2014 had fallen from 86% to 80%, mainly attributable to traffic congestion and roadworks, while satisfaction with value-for-money stood at 68%.
Reaction
The Confederation of Passenger Transport UK (CPT) Chief Executive, Simon Posner, said: "Once again this important annual Survey has shown that passengers – the people who really matter – have given a ringing endorsement to their bus services.
"The industry can be justifiably proud of these results, especially when increasing road congestion and seemingly never-ending road works are making delivering reliable local bus services all the more difficult.
"CPT will continue to work with its member operators, central and local Government, and all stakeholders to further promote the benefits of bus travel. As well as road congestion, the industry continues to face a number of challenges, including the stringent requirements aimed at improving air quality. The results of this Survey prove the resilience of the industry and demonstrate that, once again, the bus industry is delivering for passengers."
Go-Ahead CEO David Brown commented: "It is encouraging that customers recognise our continued efforts to provide reliable, local bus services and the research makes it clear that our bus drivers play an important role in overall passenger satisfaction. Our aim is to take care of customers throughout their journeys and we will always listen and act upon things they tell us we can do better.
"All our operating companies use the feedback from the surveys to see where they need to improve across all aspects of the service they deliver. But it's only by our teams working in partnership with their local authorities that together they can tackle the challenge of congestion and also work with them on initiatives to improve air quality in the towns and cities we serve."
First Bus Managing Director, Giles Fearnley, said: "I'm pleased many of our businesses have recorded improved customer satisfaction results. For example, First Essex has scored a 9% improvement while we are seeing marked progression in Manchester, Scotland, the Potteries, and the South Coast.
"However, we are very aware that we must continue to improve if we are to deliver a service to our customers that we can really be proud of. Worsening congestion in some areas continues to make this even more challenging. For example, in West of England and West Yorkshire, there is a clear link between worsening congestion and our customers' frustration around punctuality and journey times, which is of course reflected in these survey results.
"In 2017, we have ambitious plans in place which will deliver a step change in the travelling experience for our customers: contactless will be rolled out extensively across our businesses, which combined with smartcards and the continuing success of the mTicket app will reduce boarding times, helping to speed up our services; we will launch an industry leading new app; we will continue to invest in our fleet; and we are launching an innovative and ambitious programme which will improve our front line approach to customer service. All of which will directly benefit our customers and we look forward to seeing their reactions in next year's survey scores.
"There is a growing recognition of the role of the bus in addressing not just congestion, but also air quality and in supporting the success of local economies. We are developing ever stronger partnerships with Local Authorities ensuring that Bus plays its full role in supporting the communities we serve. This was illustrated by the recently announced £180m public private funding package in Leeds which aims to double bus passenger numbers by 2020 tackling congestion and air quality.
"We're looking forward to next year's results, confident that our customer focused plans will deliver a better travelling experience."
Claire Haigh, CEO of Greener Journeys, said: "The latest report from Transport Focus highlights the grave threat that congestion poses to the bus sector.
"Last year, Greener Journeys published a report on the damaging impact of congestion on bus passengers, showing that in our most congested areas bus journey times are increasing at a rate of 10% every 10 years causing bus passenger numbers to fall by between 10% and 14% per decade.
"These new figures from Transport Focus underline how critical the situation is. Congestion is very damaging for the economy and buses have a huge role to play in alleviating the problem by reducing the number of cars on the road. If we are to successfully tackle congestion, then we need to make bus travel a more viable and attractive alternative for passengers by giving buses greater priority on the roads."
Customer satisfaction with Nottingham City Transport (NCT) services stood at 92%, though 32% of NCT customers reported that their journey had been disrupted by congestion and roadworks, a figure which had almost doubled from the previous year.
Anthony Carver-Smith, NCT Marketing Manager, commented: "We are delighted that customer satisfaction on our services remains amongst the highest in the country and that despite customers increasingly reporting disruption caused by congestion and roadworks, our 84% satisfaction score for punctuality was the joint top for the city operators surveyed and demonstrates the hard work and commitment by our employees to provide a reliable service."
Stagecoach Group Director of Communications, Steven Stewart, said: "Our customers continue to be satisfied with us as an operator and we have again been rated as offering the best value-for-money of any major bus company.
"But the statistics clearly show that traffic congestion is having an increasingly damaging impact on passenger satisfaction, and undermining the attractiveness of bus travel.
"We need urgent action now from the politicians who have the ability to do something about it now, to tackle traffic congestion, improve air quality and show they are on the side of the millions of bus passengers across the country."