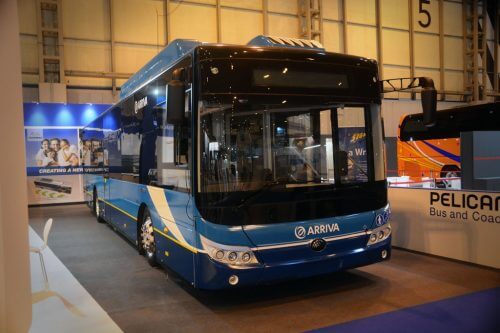 At Euro Bus Expo this week, the Yutong stand, G10, will be displaying a 'full electric connected bus,' in partnership with 21st Century and Arriva.
The model on display, the E12, will be a working example of a connected bus. 21st Century has worked together with the Chinese bus manufacturer and the operator to install key technology systems on to a single ITxPT compliant platform.
The Yutong E12, bearing Arriva livery, includes HD IP CCTV systems, passenger information screens, passenger WiFi, passenger counting and an android screen for driver applications, such as first use checks.
All the systems have been placed onto a single rationalised infrastructure, which aims to significantly reduce installation and maintenance costs while increasing the operator's ability to share data between systems.
Mark Johnson, Director of Fleet Systems for 21st Century, commented: "Connected vehicles are a perfect working example of the principle of The Internet of Things, creating a better experience for passengers and cost efficiencies for operators.
"The connected bus allows for improved data sharing in back-office systems, creating connected journeys and facilitating future innovation on the ITxPT platform."