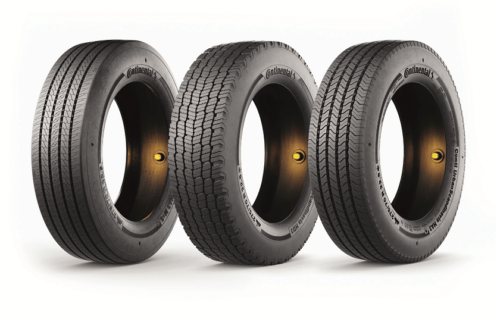 The latest generation of Continental's Conti Urban bus tyre is becoming 'smart' following the company's move to factory fit the complete bus tyre family with its latest-generation sensors. Available from August 2023, Continental believes that it is the first manufacturer to offer an entire family of tyres with sensors, a move which it says will allow it to continue driving forward its commitment to fleet digitalisation.
"We help our customers to successfully deal with these increasing demands using digital solutions such as the intelligent Conti Urban tyre," said Kalyan Yalamanchili, Head of Digital Solutions at Continental Tires EMEA. "Thanks to our App, ContiConnect On-Site and our Conti Urban tyre family, customers are able to retrieve tyre data very easily and conveniently from a smartphone via Bluetooth.
"We make sure that our tyres offer energy-efficient operation and a long life, as well as facilitating predictive maintenance. By incorporating the new Conti Urban tyre into our ContiConnect 2.0 digital tyre management solution, we are helping coach and local public transport operators to offer a reliable, efficient and eco-friendly mobility network."
Operational reliability, longer tyre life and good utilisation of vehicle capacity are also a great help in lowering carbon emissions and increasing fleet sustainability, Continental says, whilst at the same time, digital tyre management makes it possible to minimise real-life fleet costs. "Tyre sensors additionally provide the basis for capitalising on benefits such as remote fleet monitoring and predictive service planning in future," added Yalamanchili. "Experience has shown that ContiConnect can reduce punctures by around 30% for customers, achieve a fuel saving of 2% and increase usable mileage by some 10%."
The tyre sensors transmit live data on tyre temperature, pressure and predicted mileage via Bluetooth, which fleet managers can access using a stationary yard reader station or telematics units.