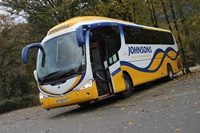 Two popular North Wales coaching destinations recognised for their welcome to groups
Two of North Wales' most popular inland resorts, Conwy and Betws-y-Coed, have been awarded CPT's prestigious Coach Friendly towns, cities & villages status.
Following on the heels of Llandudno which, landed the title back in November 2014, the county of Conwy becomes the first district in the United Kingdom to have three individual locations each achieve this well-recognised coach industry standard.
The status, established in 2003, recognises the work and commitment that towns, cities and villages have made to providing coach operators, along with their drivers and passengers, a warm welcome and easy access to key visitor attractions and facilities in their area.
On presenting the status to Conwy and Betws-y-Coed, CPT's Tourism Executive, Alf Scrimgour, said: "These three tourist locations in North Wales, which are all part of the Conwy Development Board, may all be very different in terms of what they have to offer visitors but they each make every effort to both attract and provide a warm welcome to visiting coach groups.
"I am delighted to see that Llandudno continues to go from strength-to-strength, further improving its offer to coaches and coach parties. Despite being much smaller resorts, Conwy and Betws-y-Coed have shown a real understanding of the requirements of coaches and coach groups by developing suitably located coach parking, pick-up and drop-off points close to key attractions and facilities."
Mr Scrimgour added: "I have been particularly impressed by the ongoing commitment of the Conwy Development Board in maintaining and improving the overall offer to visiting coach groups."
Accepting the status on behalf of Conwy, Betws-y-Coed and Llandudno, Councillor Graham Rees, Chairman of the Conwy Strategic Management Board said: "Coach passenger travel is a growing and valued market segment to the tourism industry in Conwy County, a vital income source to accommodation and service providers of the county. It provides the county with an environmentally friendly mode of transport for visitors to the county especially as they travel around the beauty spots of the county.
"The value of the CPT Coach Friendly status has been clearly identified in our 2015-18 Destination Conwy Action Plan. We at Destination Conwy see it as a great honour and are very proud to be the first UK Destination to have three of its resorts achieve this status.
"We will strive to have our other resorts and attractions achieve the required standards to obtain these and similar awards."